Galawati Kabab
Galouti kebab or Galawati Kabab is a traditional Awadhi recipe popular in Lucknow. The word 'Galouti' or 'Galawati' means ' melt in the mouth'. According to an old saying Galawati Kabab was specially created for the aging Asaf-ud-daulah, who had weak teeth but he was a meat lover. This recipe is made up of minced mutton meat and hence does not require chewing.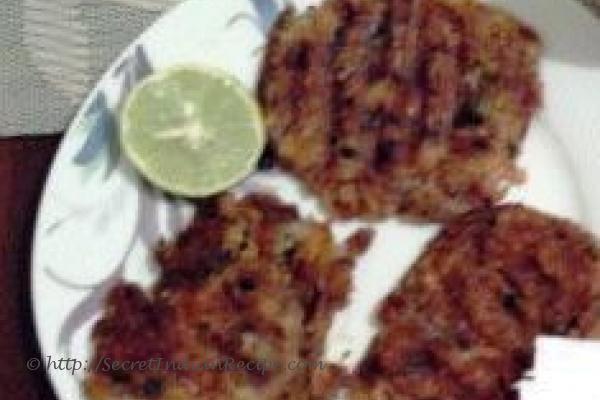 Ingredients:
Minced Mutton 250 grams (9 ounce)
Raw Papaya paste 25 grams (1 ounce)
Ghee 50 grams (2 ounce)
Sattu (Roasted granm flour) 25 grams (1 ounce)
Hung Curd 25 grams (1 ounce)
Kewra water 1 tablespoon
Salt 1 and ½ tablespoon
(For dry Masala)
Red chillies 3 pieces
Coriander seeds ½ tablespoon
Dry coconut 2 inch piece
Poppy seeds 1 tablespoon
Cinnamon ½ inch
Almonds 5
Heat all the dry pieces and grind them finely
(For the masala paste)
Ginger garlic paste 2 tablespoon
Black pepper powder ½ tablespoon
Raw onions 2 pieces
Fried and crushed onions ½ cup
Gotta (Whole) garam masala 1 Cardamom,1 clove, ½ inch cinnamon, ½ inch mace and nutmeg.
Directions:
Grind the minced meat into fine paste and marinate it with raw papaya paste and salt for an hour.
Afterwards take the marinated meat and add the dry masala, paste masala, curd, Kewra water and sattu all together.
Place a burning coal in the middle of pan, wherein meat is kept..Pour a spoon of ghee on the burning coal and put the lid on. Keep it for 20 mintues. This will allow the smoke to spread evenly. Remove the coal.
Now heat the rest of the ghee in a pan. Take small portions from the marinated and flavoured meat and form tikkies. You can add some more sattu or cornflour if your mixture has more water. Place the tikkies carefully over the ghee smeared pan. Cover the pan with a lid and cook each side for 15 mintues.
Take a tooth pick and insert it in the kababs if it comes out clean, it means the kababs are ready.
Garnish it with onion rings and serve hot.
Other Indian Recipes that you may Like !