Garam Pakoda
Garam Pakoda is very tasty south indian snack. You can serve this with coffee or tea in the evenings. During rainy season serving hot Garam Pokada and hot tea or coffee will be very good. Many restaurant cum bars also serve this.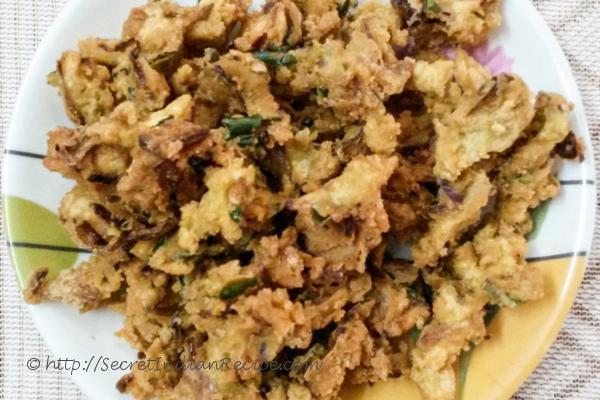 Ingredients:
Rice flour – 1 ½ cup
Bengal gram flour – 1cup
Onion – 2
Green Chilli – 10
Curry leaves
Coriander leaves
Garlic flakes – 10
Clove -3
Cinnamon -2 inch
Cooking Soda – ¼ teaspoon
Vegetable oil for deep frying.
Salt
Directions:
Cut onions to thin long pieces.
Grind green chilli to fine paste.
Chop curry leaves and coriander leaves finely.
Break clove and cinnamon to small pieces
In big bowl mix rice flour, Bengal gram flour, oinion pieces, chilli paste, curry leaves, coriander leaves, clove, cinnamon. Smash garlic flakes and add along with salt, cooking soda.
Heat 1 table spoon oil and mix with other contents in the bowl.
Now add water and mix to form dough used for making chapatti.
Heat oil in kadai for deep frying.
Add dough to oil in such a way that small lumps are formed inside the oil.
Fry till the pakoda is crisp.
Store it in air tight container for longer use.
Footnotes:
Store it in air tight container for longer use.