Garlic Bread With Corn And Broccoli Spread.
A mid evening snack relished by all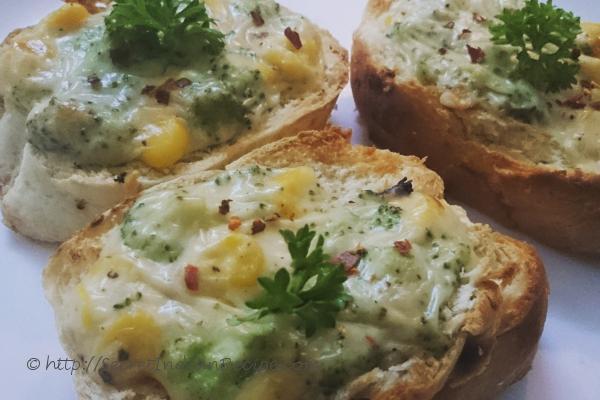 Ingredients:
1 tbsp butter
1tsp maida
1 cup milk
¼ cup grated cheese
2 tsps chopped onion
½ cup boiled sweet corn
¼ cup blanched broccoli florets
¼ tsp chopped garlic
Mix dried herbs and chilli flakes
Slices of Garlic bread
Salt to taste
Directions:
Make a white sauce by melting butter and sautéing maida for just a minute . Make sure it does not brown.
Add milk and mix well to avoid lumps. Add cheese and let cheese melt in it then switch off gas.
In little butter sauté the onions, add chopped garlic, boiled sweet corn, blanched broccoli florets, salt and mix well.
Combine the above mixture with the white sauce mix and add mixed herbs and chilli flakes into it.
Scoop out this mixture on to buttered slices of garlic bread and grill in the oven for 10-15 mins at 180 degress until crisp and slightly golden. Serve hot.