Garlic Bread Cups
I love Garlic bread and I love it how dominos makes it but sometimes when I'm really hungry, I just can't handle the wait. This recipe is for one of those days. When you're craving garlic bread but need it like now (15-20 minutes), you go for this one. No dough preparation or anything; you just need some bread slices, a few ingredients and you're good to go.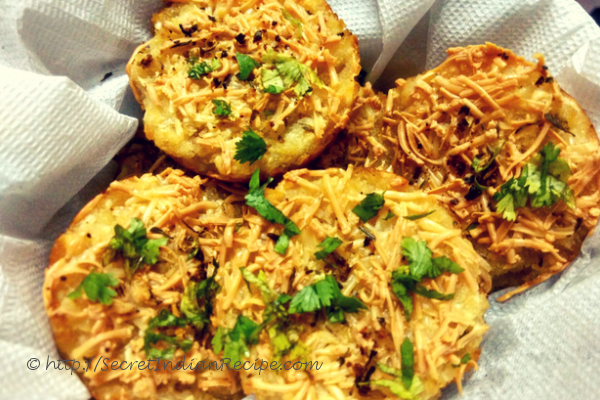 Ingredients:
Bread slices - 4
Garlic cloves - 6
Butter - 2 tablespoons
Black pepper (powder) - 1/2 teaspoon
Cheddar and mozzarella cheese (shredded) - 1 cup
Baking powder - 1/2 teaspoon
pinch of Baking soda
Parsley or corriander leaves
Dried Oregano
Oil - 2 tablespoons
Water - 1/4th cup
Salt to taste
Directions:
Tear the bread slices into pieces and put them in a grinder to make flour.
Now, take a mixing bowl and transfer the bread flour into it
Add salt, black pepper, baking soda, baking powder and oregano to the flour and mix
Smash all the cloves of garlic and add 2-3 of them to the flour mix and add the remaining ones in the butter and heat the butter and garlic mix in the microwave for 30 seconds
Add the mozzarella cheese into the flour and then add water and oil (1 ½ tbsp) to it and mix to make a slightly sticky dough
Now mix a little garlic butter in the dough and keep the rest.
Grease a 6 cup muffin tin and scoop the dough into each cup equally
Spread the garlic butter on top of each cup and then to with shredded cheddar cheese
Preheat the oven to 200°C and then pop the muffin tray in for 15-20 minutes.
Garnish with parsley and serve hot...