Gatte Ki Kadhi
Here is a recipe for Gatte Ki Kadhi which is a Rajasthani delicacy. Quite easy to make; a delicious gram flour dumpling in a yogurt based curry.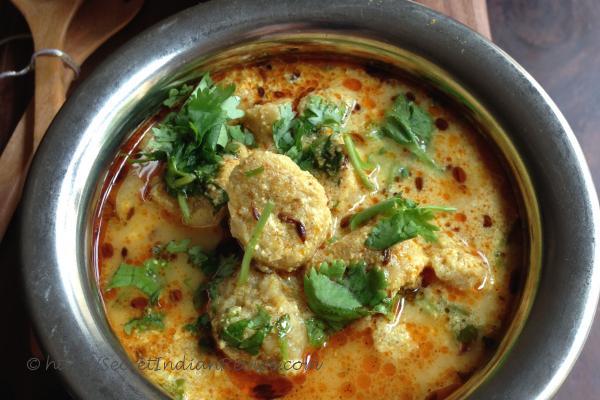 Ingredients:
• 1/4 cup Besan (gram flour)
• 1/2 teaspoon Chili powder
• 1/2 teaspoon Salt
• 1/4 teaspoon Turmeric
• 3 tablespoons Yogurt
• 3 tablespoons oil
• A dash of Baking Soda
For the Kadhi:
1 cup Yogurt
1 tablespoon Besan (gram flour)
1/4 teaspoon Turmeric powder
1/4 teaspoon Chili powder
1 tablespoon Coriander powder
1 teaspoon Salt
2 tablespoons oil
1 teaspoon Cumin seeds
1/8 teaspoon Asafoetida
4 whole Red Chilies
1 bay leaf
Directions:
For Gattes: Mix all the ingredients in a mixing bowl and form a soft dough, adding a little water if needed. At this point the dough will be a bit sticky; wetting your fingers with oil will prevent the dough from sticking to your fingers.
Divide the dough into four portions. Roll each potion into a smooth log approx. five" in length and ¾" in diameter.
Boil three cups of water. Gently drop the gatte logs into the boiling water and cook four to five minutes, or until they begin to float up to the surface.
Remove the cooked Gatte logs from the water and let them cool. Slice the logs into approx. ¾ inch pieces. Set the Gatte aside.
For The Kadhi: Mix yogurt and gram flour into a smooth paste. Add turmeric, chili powder, and coriander powder to the yogurt paste.
Heat some oil in a pan. Add the cumin seeds, mustard seeds, and asafoetida. When the seeds begin to crackle add the whole red chilies and bay leaf .Stir for a few seconds.
Remove the pan from the heat and add in the yogurt mixture and stir for a few minutes. Add three cups of water and stir until the gravy comes to a boil. Add salt to taste.
Add the gatte to the gravy. Cover and cook over low-to-medium heat for 20 minutes or longer. Turn off the heat. Garnish with chopped coriander