Gatte Ki Sabji ( Besaan Vada Curry)
It is a Rajasthani recipe modified in Bengali form.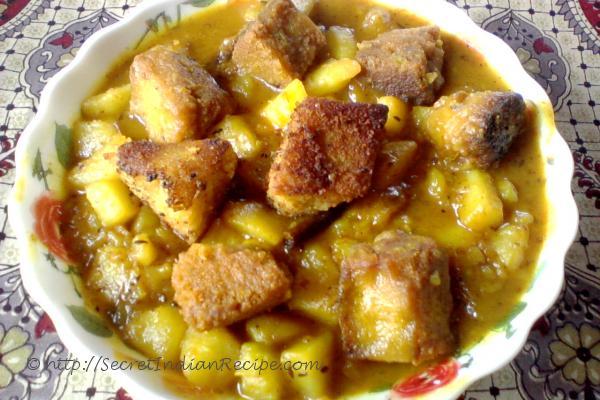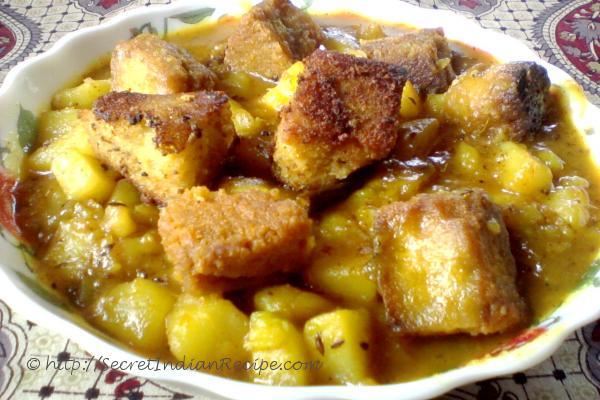 Ingredients:
Besan- 150g
Curd- 50g
Coriander powder- 1tsp
Red chilli powder- 1tsp
Turmeric powder- 1/2tsp
Cumin seed- 1/2tsp
Cumin powder- 1tsp
Red chilli whole- 2pcs
Bay leaf- 1pc
Black pepper- 1/2tsp
Salt & Sugar- to taste
Water- as required
Baking powder-1tsp
Potato sliced- 500g
Oil- 250ml
Garam masala- 1tsp
Ghee- 1tsp
Directions:
Make a batter of Besan,curd, water, turmeric powder, red chilli powder, black pepper powder, baking powder, salt & sugar and whisk well.
In the cooker add 100ml water and keep a container as stand.
Then pour the batter in a closed greased container and put it in the pressure cooker .
Steam it in low flame for 20 mins.
When it is cooled, take it out of the cooker and the container and cut in diamond shapes.
Now fry the steamed besan pieces in oil till golden brown and keep aside.
In the left over oil add cumin seed, red chillies and bay leaf.
Add small sliced potatoes and fry well.
When the potatoes turn golden, add salt, turmeric powder, chilli powder, coriander powder, cumin powder and little water and cook the masala for sometime.
When the masala is cooked add sugar and 2 cups of water and mix well and cook till it starts boiling.
When the potatoes are cooked well,add the fried besan pieces and cook for sometime.
Now add garam masala and ghee to the mixture.
When the gravy enters the besan fries, turn of the oven.