Ghanta (mix Vegetables Oriya Style)
Ghanta is a famous curry recipe from the Oriya kitchen. A wide variety of vegetables like Eggplants and tomatoes can be used to prepare this recipe. Due to presence of these vegetables; the nutrient content is very high. In Orissa, people prepare this recipe during festivals. I learnt this recipe from one of my Oriya friends while we were staying at Lucknow. She prepares the best Ghanta. I love this recipe because of its flavors and nutritional values and prepare this recipe often. Ghanta can be eaten with rice or chapatti at lunch or dinner.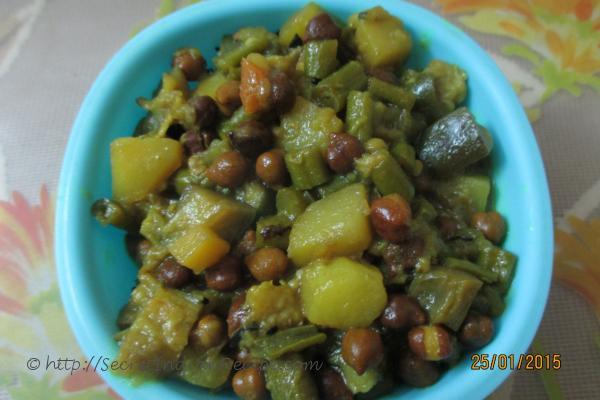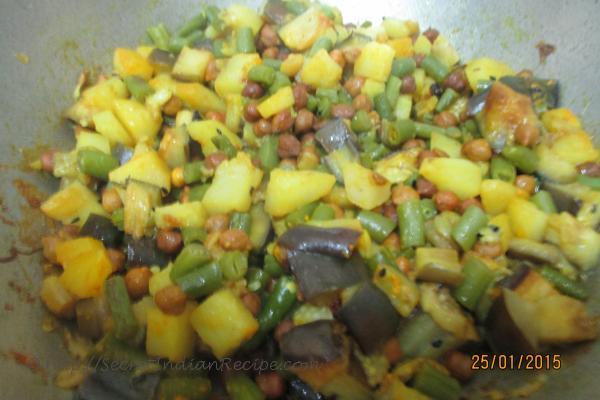 Ingredients:
1 eggplant
50 gms pumpkin
2 potatoes
1 tomato
50 gms beans
50 gms raw papaya
1 cup boiled kabuli chana (brown chickpeas)
2 tablespoon oil
Salt to taste
2 tablespoon ginger and garlic paste
2 onions (chopped)
1 teaspoon garam masala powder
1 teaspoon turmeric powder
1/2 teaspoon chili powder
Sufficient amount of water
Directions:
Cut the vegetables. Place Kadhai (deep fried pan) on the stove and add oil.
When oil gets heated add the chopped onions and fry till they become golden-brownish in color.
Add ginger-garlic paste and cook till it separates oil.
Add tomatoes, sauté for some time and then add vegetables, boiled chickpeas, salt, garam masala powder, turmeric powder and chili powder. Mix well.
Pour water and cover with a lid. The stove should be on a medium flame.
It takes 25 - 30 mintues to cook the vegetables.
When all the vegetables are cooked well and there is no extra water left, switch off the stove.
Give a quick mix again ... Before serving, stir the vegetables and Serve hot with rice or chapatti.
Footnotes:
You can add more vegetables if you want.
If you want a little watery curry then you can add more water.
For boiled chickpeas, first you have to soak the brown chickpeas (kabuli chana) in water for 5 to 6 hours then boil it.
For quicker preparation of the recipe, you may use a pressure cooker.