Ghughri
Traditional healthy recipe made with wheat grains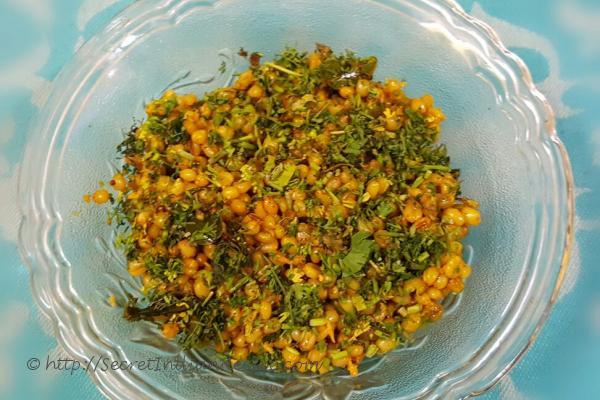 Ingredients:
Wheat Grains ( small size) – 400 gms
Moong- 100 gms
Pure Ghee- 3 Tbspn
Vegetable Oil- 1 Tbspn
Black Mustard seeds- 1 Tspn
Cumin seeds (Jeera)- 1 Tspn
White Sesame seeds - 2 Tbspn
Peanuts- ½ Cup
Methi seeds (Fenugreek)- ¼ Tspn
Cinnamon Stick (broken into small pcs)- 2 sticks
Cloves- 6
Neem leaves- 5-6 leaves
Green chilli- 4 finely chopped
Green Chilli Ginger paste- 2 Tbspn
Garlic Paste- 1 Tbspn
Turmeric Powder- 1 Tspn
Red Chilli Powder- 1 Tbspn
Coriander and Cumin Powder- 2 Tbspn
Asafoetida Powder (Hing)- ¼ Tspn
Sugar- 1 Tbspn
Coriander Leaves- 1 Bunch
Mint Leaves- 1 Cup
Coconut Desiccated- 1 Cup
Salt- To taste
Onion- ½ finely chopped
Lemon- 1
Directions:
Soak wheat for 8 to 10 hours before preparation time. Soak moong for 4 to 5 hours separately before preparation time.
Cook the wheat in the pressure cooker for 8-to 10 mins. (Approx. 4 to 5 whistles). Add a pinch of salt before cooking. Cook moong separately in a vessel. Add a pinch of salt before cooking.
Drain the water from both, wheat and moong post cooking, separately.
Heat oil and ghee in a sauce pan till its smoking point. Let it cool down a bit till it comes to warm temperature.
Take Mustard seeds, Cumin seeds, Methi seeds, cinnamon sticks, Neem leaves, Peanuts, Asafoetida powder, green chilli, white sesame seeds and Cloves in a bowl and pour in the warm oil. Cook on medium flame.
Add Garlic paste and Ginger Chilli Paste and sauté till golden brown. Add the cooked wheat and moong to the mixture and mix well.
Add turmeric powder, chilli powder, coriander and cumin powder, sugar and salt (to taste) to the wheat and moong mixture. Mix well.
Sauté for about 5 to 6 mins till cooked well. Add desiccated coconut, coriander leaves and mint leaves and mix again. Leave some coriander leaves for garnishing.
Remove from the stove and place in a plate. Garnish with Coriander leaves, some desiccated coconut, finely chopped onions and cut lemon and serve hot.