Goa Pork Sausage Curry
Well a trip to Goa is not complete without the mandatory stock of Goa Pork Sausages.There are quite a variety available to choose from.Some branded ones like Costas, J0a0's are readily available in the market stores or perhaps you may even like to buy some freshly strung one's that the vendors sell in Mapusa.I picked up an assortment as they stay well refrigerated. So if asked what's for dinner? GPS aka Goan Pork Sausage was my answer the other night,which instantly lit my the hub's face and the son quite enjoyed this too.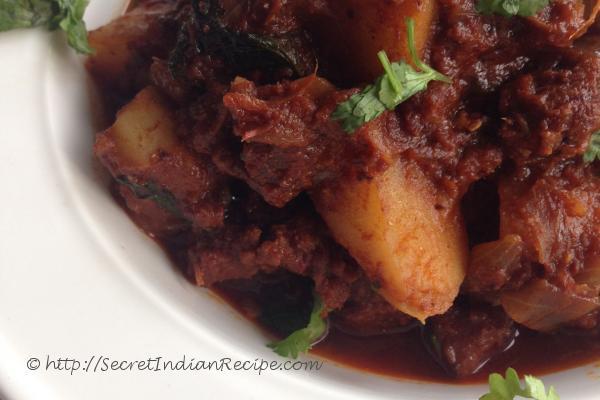 Ingredients:
1 Packet Goa Pork Sausages( Meat removed from the casing)
2 Medium Onions (sliced finely)
1/2 teaspoon Oil
1 teaspoon ginger-garlic paste
1-2 Green chilies (slit lengthwise)
2 Small Potatoes (Cubed and Boiled)
Salt to taste
Chopped Coriander for garnish
1 teaspoon Tomato Paste
Directions:
Remove the sausage meat from its casing. Now heat a pan and add some oil to it and fry the onions till medium brown. Next add in the green chilies and ginger-garlic paste and fry for a few minutes. Now add in the sausage meat and fry well. Stir in the tomato paste and add water enough to cover the mixture. Let this simmer for a good 30-40 minutes so as to cook the meat well. Once reduced add in the boiled potatoes and garnish with chopped coriander. Remove any excess oil that may come up during cooking the sausage. Serve with Pao or any bread.
Other Indian Recipes that you may Like !