Gobhi Gajar Achaar (cauliflower And Carrot Pickle)
This pickle is usually prepared in winters and can be enjoyed with puris, parathas. It is a spicy accompaniment to the dal, subzi and roti meal. A homemade pickle is so much better than the preservative laden store-bought versions. This recipe reminds me of the time when pickles were made at home in large quantities and exchanged between neighbours, almost like an annual event!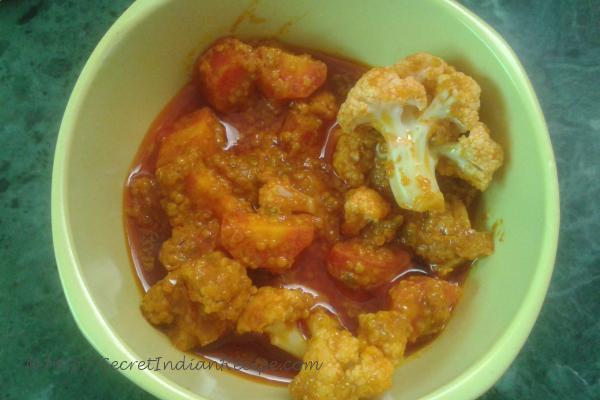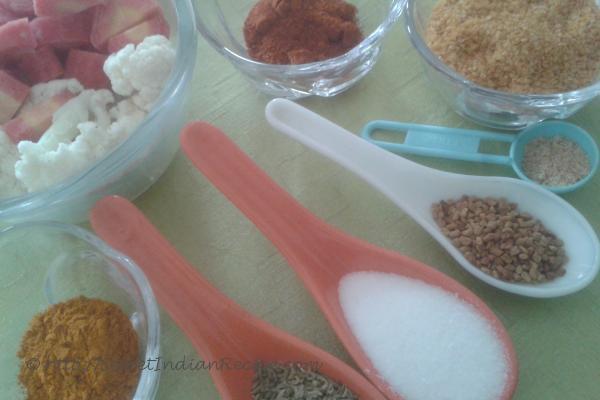 Ingredients:
1 cup cauliflower florets
1cup carrot cut into cubes
1/2 cup yellow mustard dal (split and dehusked mustard seeds)
1 tsp fennel seeds
1tbsp turmeric powder
2tbsp chilli powder
3 tbsp salt
1 cup mustard oil
2 tbsp lemon juice
1/2 tsp asafoetida
1 tsp fenugreek seeds
Directions:
In a dry bowl prepare a mixture of mustard dal, turmeric, chilli powder, salt and fennel and make a well in the center.
Heat 2 tbsp of oil and add fenugreek seeds and asafoetida and pour the tempering into the spice mix.
Add the chopped vegetables and mix well with the spices.
Add the lemon juice.
Heat and cool the mustard oil and add to the pickle.
Store the pickle in a sterilized jar.
Footnotes:
Use clean and dry containers and implements while making the pickle. Ensure that the vegetables are properly washed and devoid of water when added to the pickle masala. Leave the veggies on a kitchen towel for 2-3 hours. These precautions are necessary to prevent spoilage, since the recipe does not contain preservatives.