Gobi 65
Gobi 65 is very tasty & crispy recipe which is very good snack item for evening time.The taste is similarly like in restaurant style.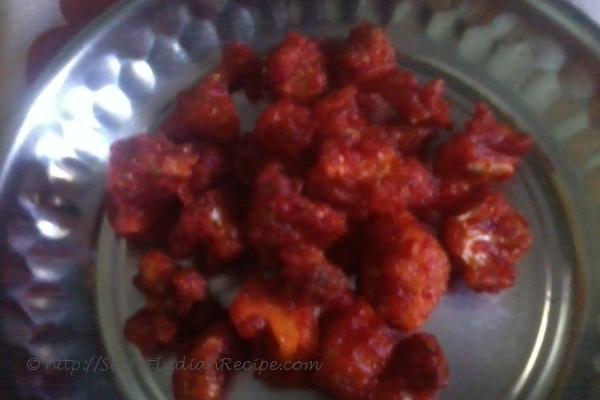 Ingredients:
Cauliflower-1 medium size
Corn flour-50gms
Maidha/all purpose flour-50gms
Egg-1
Water-1/2 cup
Green chilli sauce - 2 tbsp
Soysauce-2 tbsp
Ginger & garlic paste-1 tbsp
Ajinomoto (optional)-a pinch
Black pepper powder-1/2 tbsp
Salt-to taste
Red food colour-as needed
Oil for deep frying
Directions:
Cut gobi or Cauliflower into medium sized flower pieces and wash them. Boil gobi pieces by adding little salt for one whistle. When it =cools, drain the water.
In a bowl add Corn and maidha /all purpose flour in equal quantities and mix the both. Add chilli sauce, soya sauce, Egg white, black pepper, red color, salt, ginger and garlic paste.
Add water to this mixture and make a thin liquid paste.Dip each gobi piece in the above paste & deep fry them in oil till it turns golden brown. Serve hot..
Footnotes:
If you don't want to add food colour then instead of green chilli sauce add kashmiri chilly powder.