Gobi De Parathe ( Cauliflower Bread In Butter Oil)
Gobi (cauliflower) is an ideal stuffing for parathas. Once grated, its cooks quickly along with the paratha itself and imbibes the flavours of the added spices well, making the paratha very toothsome indeed. This recipe is enjoyed by people of all ages and specially on occasions. It is an authentic punjabi recipe.
Apart from standard ingredients like coriander, green chillies and ginger, the stuffing for this version of gobi de parathe also includes pomegranate seeds, which lends an aromatic and tangy finish to it.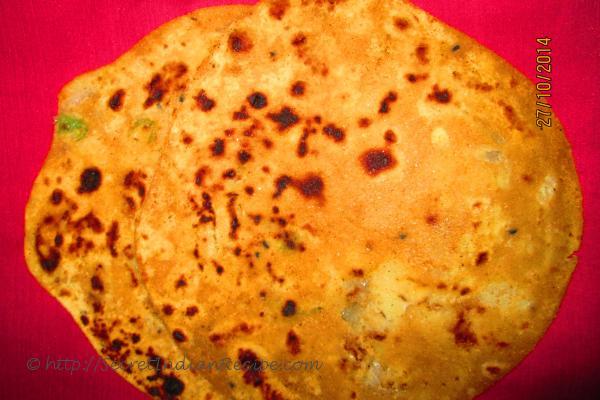 Ingredients:
Wheat flour - 2 1/2 cups
Large cauliflower - 1 (washed and grated)
Green chillies - 3 (deseeded and chopped finely)
Coriander leaves - 2 tbsp (chopped)
Ginger - 1" (grated)
Carom seeds - 1/2 tsp
Salt - as per taste
Red chilli powder - 1/2 tsp
Garam masala powder (blend of spices) - 1/2 tsp
Pomegranate seeds - 1 tsp ( pounded)
Cooking oil or ghee (butter oil) for frying
Directions:
Knead the flour to a smooth dough and keep it aside for atleast 15 minutes.
Remove stem and break cauliflower into florets, wash the cauliflower. Wipe with a clean kitchen. Grate finely. Add all the ingredients- chopped chillies, coriander, ginger and dry masalas(spices).
Roll out 2 small balls of flour into 4" diameter, spread cauliflower filling generously on one roti(bread) and put the other on the top. Press the edges to seal and pat between the palms of both the hands to seal the filling. Roll in dry flour and roll out carefully to a big paratha.
Put tawa (pan) on fire, when it gets hot, Put rolled out paratha on it and let it cook on both sides and then trickle some ghee or oil from the sides to get crisp edges. Serve with fresh white butter and yogurt.