Healthy Gond Ke Laddu/ Dinkache Ladoo (sweet Made With Edible Gum) Using Less Ghee
Gond Ke Laddu Using 50% Less ghee
This was my first attempt in making "Gond ke Laddu". In fact, it was the first time I cooked with edible gum. I always thought these might be complicated to make, but to my surprise they are quite easy. After reading many gond ke laddu recipes and taking tips from my mother in law I came up with this healthy recipes which needs half the quantity of ghee used originally.
Most often these gums are found in the woody elements of plants or in seed coatings (wiki). The ones found at the grocers look like tiny hard crystals. 'Gond 'is also known as 'Dinka' and in marathi these are known as Dinkache Ladoo. Maharashtrians make Dinkache Ladoo using methi.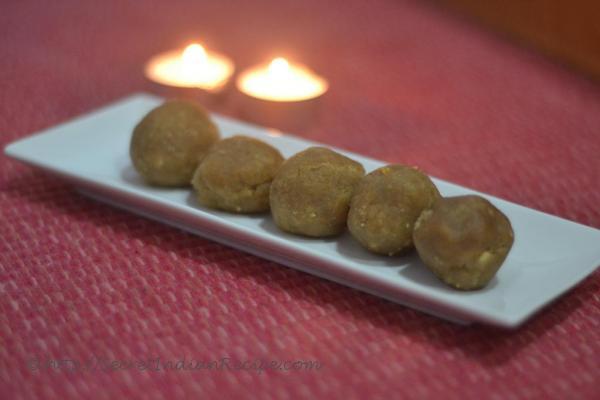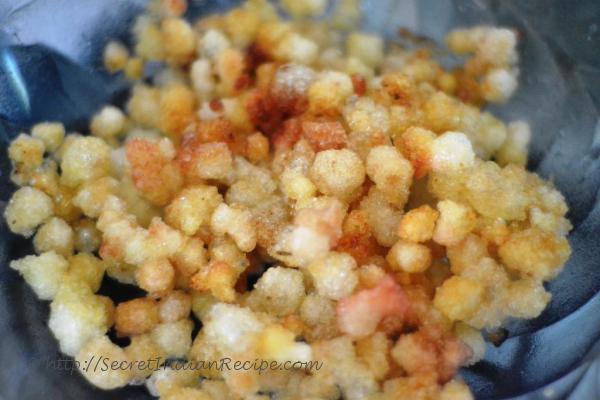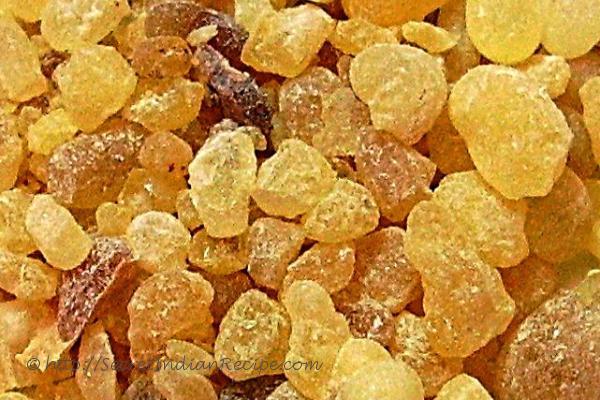 Ingredients:
Gond (Edible Gum) : 1/2 Cup
Besan (Chick Pea Flour): 1/2 Cup
Atta (Wheat Flour) :1 Cup
Sugar : 1 Cup
Ghee (Clarified Butter): 1/2 Cup
Elaichi powder (Green Cardamom Powder): 1/2 tsp (Optional)
Cashew nuts : 10 pcs (roughly chopped)
Raisins: 10-15 pcs
Directions:
In a pot or kadhai heat ghee. While the ghee is heating make three equal postions of the gond. Slowly fry gond in ghee one part at a time. Do not add all gond at once as it may splatter all over
When the gond meets the hot ghee it starts to puff like corn. Let all the gond puff up well. Keep the heat on low-med as too high tempreture may burn the gum. Remove the puffed gum in a plate and continue this process with the remaining gum
Once all gum is fried, to the same ghee add the cashewnuts and raisins. Saute them for a min and remove on a paper napkin and keep aside
Lowe the heat to low. In the remaining ghee add besan and wheat flour, roast both flours on low heat for 15 -20 mins. Keep stirring continiously and do not leave teh fpurs unattended even for a min as it may burn quickly.
Now remove the flours in a large bowl.
By now the gum must have cooled a bit, using mortar pestle or with the help of a rolling pin, crush all the gond to powder (it may not become too fine, so its ok to keep it chunky a bit)
Add the crushed gond to the flours, fried cashews, raisins. Add the elaichi powder and sugar
At this stage the mixture must still be warm. Now heat about 1 cup of water till warm. Now add little hot water at a time and start kneading the mixture in to small round laddus.
Originally, with the amount of ghee used in this recipe the mixture does not need water to form laddus, but since I have used half the quantity of ghee than what's sued in original recipe, I needed the warm water to form the laddus.
Store the Laddus in an air tight container in the fridge or in a cool dry place
Footnotes:
Gond Ke Laddu Benefits 1) In winters Gond Ke Laddu help keep our body warm 2) Post pregnancy, this laddu is good for nursing mothers 3) Being a high calorie food it's good for growing/ teenage kids