Gongura Pappu (lentils Cooked With Sorrel Leaves
My hubby and I visit more Andhra restaurants than Kerala restaurants for this dal and the famous gongura chutney served at these places. My understanding of dals has totally changed ever since I adapted recipes from the Andhra cuisine. Sorrel leaves also known as gongura is a very sour leaf hence also known as Khatta saag. These leaves are added generously to dal, chicken, mutton, chutneys and are good replacement for tomatoes. These leaves have a red stalk and resemble the shape of tapioca leaves.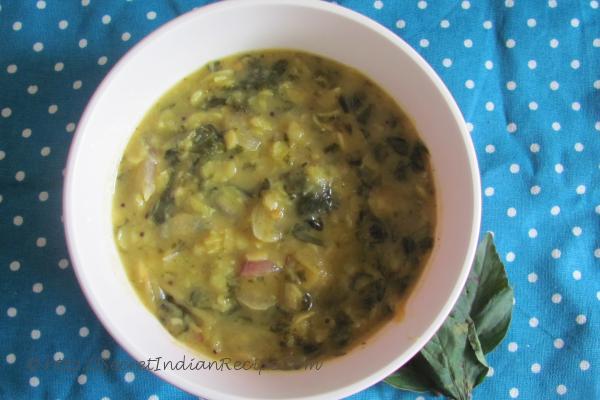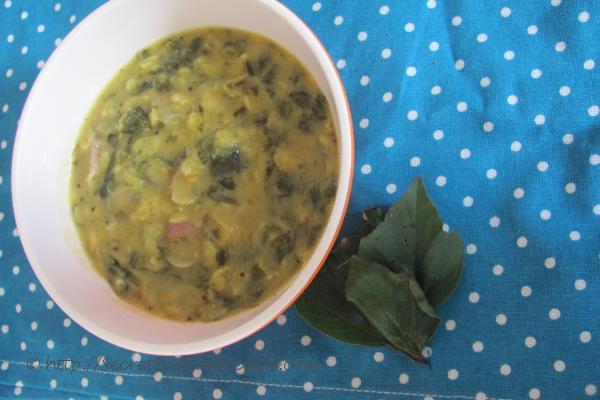 Ingredients:
Gongura Leaves- 2 bunch
Toor dal- 1/2 cup
Onion-1
Curry leaves- 1 sprig
Green Chilies - 2
Cumin seeds- 1/2 tsp
Turmeric powder- 1/2 tsp
Asafoetida- a pinch
Garlic- 5 cloves
Mustard seeds- 1 tsp
Dry chilies- 3
Oil- 2 tsp
Salt- to taste
Water- 3 cups
Directions:
Wash and pressure cook the dal with 1 and 1/2 cups water up to 2 whistles with salt and turmeric.
Wash the gongura leaves after separating them from the stalks. Chop them finely.
In another pan saute green chilies and garlic in 1 tsp oil and when the garlic browns saute the chopped gongura leaves.
When the dal has cooked transfer it to a bowl and heat the cooker again.
Add the mustard seeds and dry chilies. When the mustard seeds splutter add the cumin seeds and curry leaves.
Now add the chopped onions and saute till the onions brown.
Add the dal and cooked sorrel leaves to the browned onions and bring them together by stirring and bringing the curry to boil.
Add asafoetida and remaining 1 and 1/2 cups of water and let the dal simmer for 5 minutes.
Check the salt level and add more if you find the salt is less. Take the curry off the flame once the dal has become thick. This preparation should not be too watery.
Footnotes:
Sometimes while cleaning gongura you will see small bulb like fruits do not discard these, they can be cooked with the leaves. But do not add the red stalks.
You can add chili powder instead of green chilies if you want your dal spicy.
At times gongura leaves do not taste tangy as expected so if you feel after mixing with the dal the tanginess has reduced, chop and saute some more gongura leaves. It is always ideal to start with fewer bunch because these leaves can be very tangy.