Gothambu Dosa ( Wheat Pancakes)
We make sure we avoid rice ever night so we replace it with wheat or any other millet. But we end up having rotis frequently. On days when I do not feel energetic to roll rotis I end up making these dosas. There is a twist in this recipe unlike the other ones; we had eno fruit salt to make it fluffy. Spice it up with some chilies and onion, this could be a fresh change from the daily rotis. Those hunting for diabetic health food recipes should find this useful.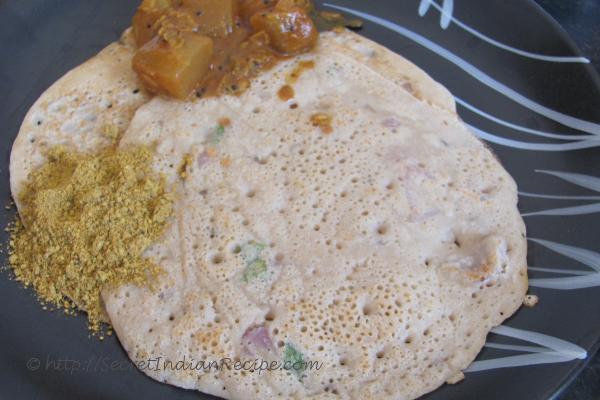 Ingredients:
Wheat flour- 1 cup
Onion- 1
Green chilies- 1
Cumin seeds- 1/4 tsp
Water - 1 1/2 cup
Salt- to taste
Oil- for spraying the tawa
Eno- 1 small sachet
Directions:
Add water and salt to the wheat flour and stir well so there are no lumps.
Add the chopped chilies, onion and cumin seeds to this batter and keep it aside for 30 minutes.
Heat the tawa and while it gets hot add the eno to the batter. Once this is done you should be ready to start.
Eno will make a fizz in the batter. Stir the batter well.
Now pour a ladle on the greased pan and lift the pan. Move the pan around so a perfect circle is formed from the batter.
Flip the dosa to the other side when the bottom browns. When both the sides brown take the dosa off the pan.
Serve with sambar and chutney.
Footnotes:
Carrom seeds(Ajwain) can be added instead of cumin into the batter.
Adding eno is optional but it makes this dosa fluffier. I use the lemon flavored eno.