Green Chicken Tikka (succulent Chicken Grilled To Perfection)
I have had chicken tikkas at various places and it is actually the most obvious choice for the starter when ever we eat out. Green Chicken tikka is quite different from the usual chicken tikka in taste and flavours. The Chicken is marinated in a ground green paste made of coriander leaves, mint leaves and green chilli. making the chicken tikkas look fresh and interesting, but the taste is also very refreshing. So next time you want to offer chicken tikkas to your guests, try these green flavours Here goes the recipe...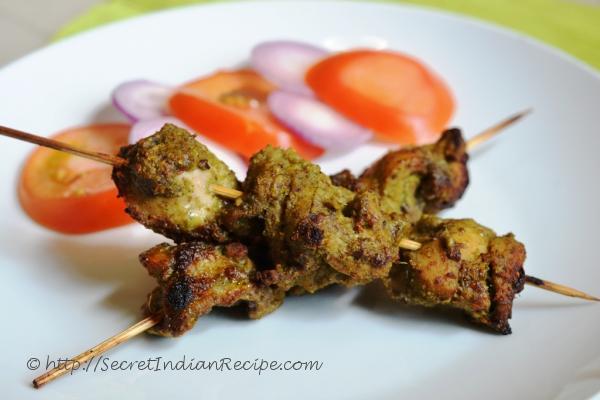 Ingredients:
Boneless chicken pieces (preferably all thigh pcs) - 250 grams
Fresh coriander leaves - 1 bunch / 1 cup chopped
Fresh Mint leaves - half bunch / Half cup chopped
Green chillies - 3 pieces
Ginger - 1 inch piece
Garlic - 4-5 cloves
Lemon juice - 1/2 lemon
Salt - As per your taste.
Oil - 2 tablespoon
Curd - 4 tbsp
Melted Butter - 2 Tbsp (Optional)
Pinch of Sugar
Directions:
Wash the Chicken pieces with water and then drain the excess water and keep it aside.
Take coriander leaves, mint leaves, green chillies, salt, ginger and garlic, all together and put them into grinder. Make a smooth paste….avoid adding water.
Remove the mixture in a bowl, add garam masala powder, curd and pinch of sugar
Now marinate the chicken pieces in this green masala paste for about 5-6 hours preferably overnight (In freezer)
While preparing to cook chicken, soak the skewers in water for at least 15 mins to avoid drying out while cooking in oven
Slowly skewer the chicken pieces one by one. Place at least 3 to four on one skewer
Preheat the oven 200 degrees for 10 mins.
Place the skewers in the oven and cook for 20 mins turning once in 10mins
You may apply some butter on both sides of the chicken while turning. You may also use the left over marinate as a substitute for butter to avoid chicken drying out
When cooked, squeeze lemon juice on top, and serve with onions on the side
Footnotes:
You may cook the tikkas on pan.
After marination, heat oil in a pan and cook the chicken uncovered on low heat
Other Indian Recipes that you may Like !