Green Masala Mutton Curry ( Hare Masalache Curry)
There is something about the smell of mutton cooking in the house. Even if it is for a stock,coupled with ginger and garlic, you know that you want to have some from the first whiff. I make this mutton curry when it is cool outside as it is just so comforting with some hot rice.
Do give it a go,I`m sure you will love it :)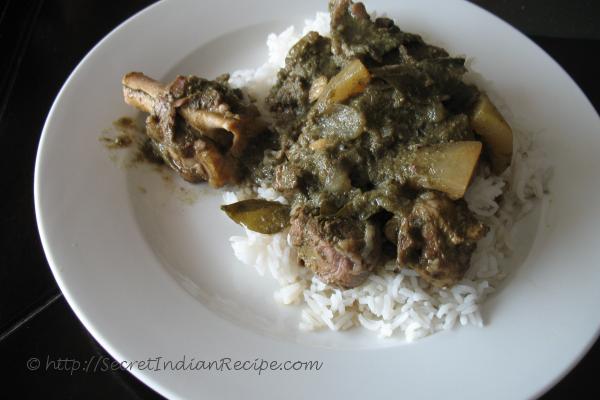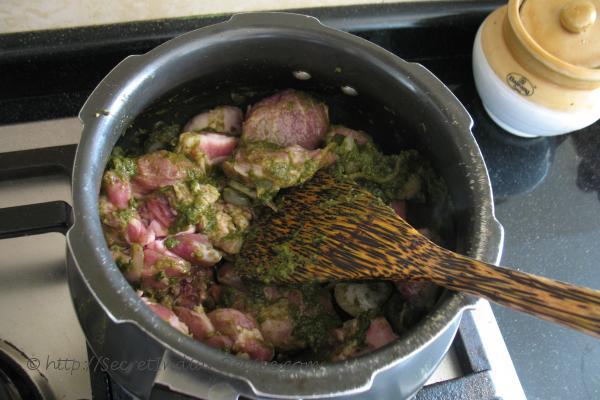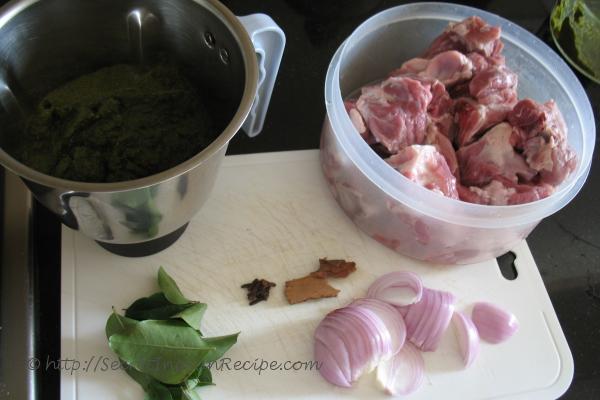 Ingredients:
1 Kg Mutton, cubed and cleaned
2 inches Cinnamon
8 Cloves
8 Curry Leaves
1 Large Onion sliced
2 tbsp Oil
Salt to taste
For the Green Masala:
1 large bunch of Coriander leaves
8 cloves of Garlic
1/2 inch Ginger
1 large Onion
1 tbsp dry Coriander
1 tsp Cumin
1 tsp peppercorns
Directions:
Take the ingredients for the masala, that is the ginger, garlic, coriander leaves, onion, dry coriander, cumin seeds and peppercorns and grind to a smooth paste. You will know when it is done if you take a little of the masala between your fingers and it is smooth. Set this aside.
Now heat the oil in the pressure cooker on a medium flame and fry the cinnamon and cloves for a minute till fragrant. Add the onion and curry leaves and fry this for a minute as well.
Add the green masala and stir well. Fry the entire mixture for a minute.
Add the mutton pieces and salt. Stir well till the pieces are coated with the masala. Now add the water and put on the lid.
Pressure cook for approximately six whistles. I like my mutton to fall off the bone so this is how long it takes.
Once it is cooked, turn off the heat and let the pressure subside. Open the lid and stir. If the curry is too think you can add some water and heat it again.
Serve hot with steamed rice. Enjoy!
Footnotes:
If you like you can add a peeled and quartered potato or two with the mutton as well.
Other Indian Recipes that you may Like !