Green Peas Kebab / Mattar Kebab / Pachi Batani Kebab
Recently I watched some videos about Indian street food. The video showcased some of the most famous street food joints in cities like Mumbai, Lucknow, Delhi, Indore etc. One of them was about kebabs. Thats when it occurred to me – how about making a kebab with green peas ? Sounds yummy. I added cashew nut powder to give it that extra richness. For crisp texture I used crushed corn flakes.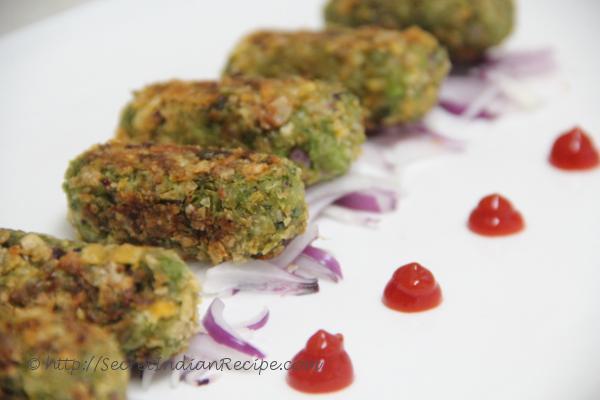 Ingredients:
Frozen green peas / pachi batani – one cup
Finely chopped onions – 1
One-fourth cup Green chilli
Five- Garlics
One medium size Ginger
Cashew nut powder – 12 pieces
Chopped coriander / kothi mera – two tblsp
Rice flour – two tsp
Salt – to taste
Oil – For frying
Directions:
Wash green peas and drain all the water. Green peas should be completely dry. I kept them under sun for few mins or you can spread them over a kitchen towel and let them dry for some time.
In a food processor, add cashews and powder them. Transfer powder in to a bowl.
Add green chilli, ginger and garlic in the food processor and make a fine paste. Add the paste to the cashew powder bowl.
Now add green peas to the food processor and make a coarse paste. Add the paste to cashew powder bowl. Add salt, chopped onions, coriander, rice flour, chick pea flour and lime juice. Mix well.
Divide the paste into equal parts and make cylindrical shapes. Roll the shapes on crushed corn flakes.
Add oil to the pan and shallow fry until they are golden brown. Keep shaking the pan so that all sides are fried evenly.
Serve hot …