Grilled Begun Bhaja (indian Style Grilled Eggplants)
Grilled Eggplants is prepared and relished across different countries but in different countries, people use different spices and this brings differences in taste. The most common is to grill it with olive oil and salt and pepper. Here we added some Indian flavor by grilling it with Mustard oil with adds a pungent taste to it.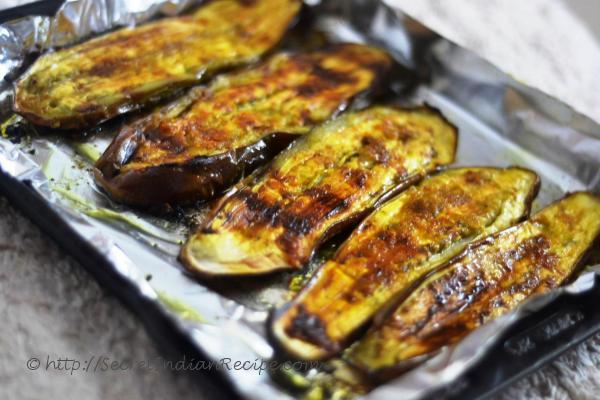 Ingredients:
Begun (Egg plants / Brinjal) – 4 ( small sized)
Mustard oil – 3 tablespoons
Garlic paste – 1 tablespoon
Red chili paste – ½ tablespoons
Salt to taste.
Directions:
Wash and wipe the brinjals. Chop off the crown and cut vertically into two half.
Mix garlic, red chili paste, salt and 2 tbsp mustard oil in a small bowl.
Apply this masala paste on the white portion of each eggplant.
Keep aside for 10 mintues.
After 10 mintues, carefully brush the other side of the eggplants with some oil.
Grill each side for 7-8 mintues.
You can sprinkle some chaat masala for a tangy taste and serve hot.