Grilled Sardines With Recheado/reshad Paste
The Recheado or Reshad paste is an excellent marinade for seafood, especially fish that are fleshy in nature. The spices are blended with tamarind and vinegar with a hint of sugar to balance out the flavours. If you do not have a grill, then pan fry the fish. But the best option would be a coal fired barbecue to grill this fish; add a couple of beers and enjoy!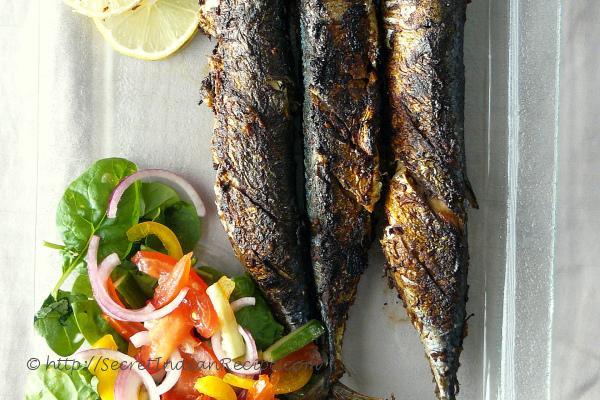 Preparation Time:
15 minutes + 1 hour marination
Ingredients:
6 oily sardines; gutted and cleaned
Salt, to season
2 cloves
½ tsp cumin/jeera seeds
½ tsp black peppercorns
½ inch cinnamon bark
3-4 long dry red chillies (this gives medium heat, so adjust quantity to suit preferences)
½ inch ginger
3 medium garlic cloves
¼ tsp turmeric powder
Sugar, a pinch
1 tsp tamarind paste
½ tsp white vinegar
lemon wedges, to serve
Directions:
Clean and wash the sardines; pat dry. Score the fish to allow deeper penetration of the marinade.
Soak the dry chillies in warm water for 15 minutes and then use for blending.
Blend cloves, cumin, peppercorns, cinnamon, dry red chilli, ginger, garlic, turmeric, sugar, salt, tamarind and vinegar into a paste.
Rub the sardines with this paste and keep aside for 2 hours. Overnight marination is a great idea if you have the time.
Grill on a pan till done or shallow fry in oil.
Serve hot with lemon wedges and a side of fresh garden salad.
Other Indian Recipes that you may Like !