Guilt Free Chicken Cutlet (bengali Cuisine)
Bengali Chicken cutlet refers to a croquet of mashed potatoes, shallots, spices and minced meat which is coated with a thin layer of flour, dipped in egg and coated with bread crumbs and then fried. My take on this bengali chicken cutlet is to make it a simple, healthy, low cholesterol food that has lots of flavor and taste and makes a perfect evening snack or appetizer for a party.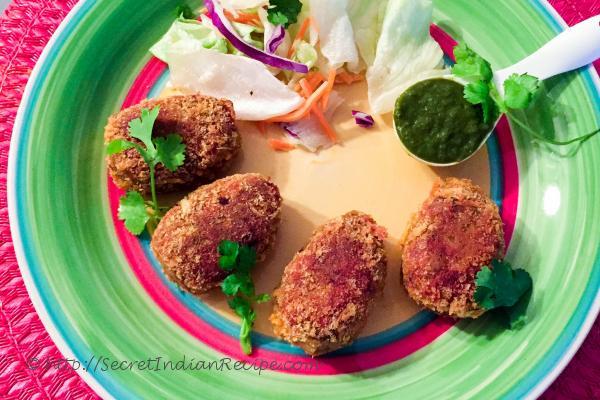 Ingredients:
For chicken marinade:
Cut Chicken cubes (size medium-large) 1/2 cup
Mustard oil 1 tsp
Cayenne 1/4 tsp
Kashmiri Mirch powder 1/2 tsp
Salt as per taste
For Bengali Bhaja Masala :
Coriander seeds 1 tsp
Cumin seeds 1 tsp
Ajwain (carom seeds) 1/2 tsp
Fennel seeds 1 tsp
Red Chillies 2
Bay leaf 2
Other Ingredients :
Fried onion 2 tbsp
Ginger 1/2 inch, finely chopped
Garlic 4 cloves finely chopped
Finely chopped green onions 1 tbsp
Boiled, peeled , grated or mashed Potatoes 1/2 cup tightly packed
Ground Black pepper 1/4 tsp
Salt as per taste
Oil to shallow fry 4 tbsp
For breading the cutlets :
Refined flour - about 1 cup (adjust accordingly)
Egg whites from 2 eggs
Seasoned Bread crumbs - about 1 cup ( adjust accordingly)
Directions:
Prepare the chicken. Preheat the oven to 350 F(180 C). Alternatively you can use a grill pan or gas stove also for cooking the chicken.
Wash the chicken pieces in cold water. Pat it dry. (This is important. Do not skip this step). Apply cayenne, kashmiri mirch powder, mustard oil and a little salt to the chicken pieces. Let it rest for 10 minutes.
Line a roasting pan with aluminum foil. Grease it with oil. Add the chicken pieces and let it bake in the oven for 30-35 minutes till the chicken is done. (I would specifically emphasise here that every oven behaves differently. Some are more powerful than others. So please adjust the temperature and the cooking time of the oven accordingly).
You can also cook chicken on the gas stove using a grill pan. When the chicken is done, take it out from the oven. Cool it and mince it using a knife or shred it.
Prepare the Bengali bhaja masala. Dry roast the bay leaf, coriander seeds, cumin seeds, carom seeds, fennel seeds and red chillies together on a low flame for 5 minutes. Cool the dry roast mixture and grind it to a fine powder in a mixer/blender. This is the bengali bhaja masala. Keep this aside.
Mash the boiled potatoes in a mixing bowl . There should not be any lumps. Finely chop or grate ginger and garlic and add it to the mixing bowl. Add the fried onions. Finely chop the green onions and add it to to the mixing bowl. Add the minced chicken. Add the bhaja masala, black pepper powder and salt as per taste. Mix the masala nicely. Now form 6 equal size cutlets from the masala of any shape. They can be round, rectangular or oval.
Spread the all purpose flour or refined flour on a flat platter. And beat the egg whites separately in a bowl by hand till you it forms the foam.
Spread bread crumbs on a flat plate.
Now take 1 cutlet. Coat it with a thin layer of flour. Dip it in the egg white mixture and then roll the cutlet over the bread crumbs so that it is well coated on all sides. Lightly pat to smooth the edges. Repeat for the rest of the cutlets. Refrigerate the breaded cutlets for atleast 20 minutes.
After 20 minutes, heat a shallow small-medium size non-stick pan. Add 4 tbsp mustard oil. When the oil is hot, reduce the flame to low and add 2-3 cutlets in the pan . Care must be taken to not overcrowd the pan. There must be atleast 1 inch space between the cutlets. Heat one side for 4-5 minutes on a low flame. Then carefully flip the other side and heat for 4-5 minutes. Again flip and increase the heat to medium-high. Cook for 2 minutes. Flip and cook the other side for 2 minutes.
Take out the cutlets on a plate and let it rest on a paper towel to absorb excess oil. Shallow fry the other breaded cutlets in the same way.
Serve the cutlets hot with fresh salad and mint/coriander chutney.
Footnotes:
You can make your own bread crumbs at home. Simply toast 2 breads and then pulse it in a mixer/ blender
Other Indian Recipes that you may Like !