Gujarati Kadhi
Gujarati Kadhi is a yogurt based gravy dish to which chickpea flour (besan) is added, tempered and then simmered with spices.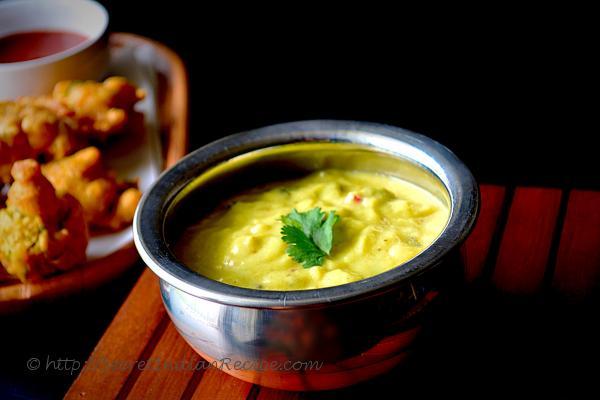 Ingredients:
1 cup Plain Yogurt (curd)
1 cup Water
2-3 tbsp Chickpea Flour (besan)
1/2 tsp Fresh Yellow Turmeric Paste
1/2 tsp Fresh White Turmeric Paste
2 tsp Green Chili Paste
1 tsp Ginger (chopped)
1/2 tsp Black Pepper Powder
1/4 tsp Cardamom Powder
1/4 tsp Cloves Powder
1/4 tsp Cinnamon Powder
Sugar to taste (optional)
Salt to taste
1/2 tsp Mustard Seeds (to temper / tadka)
1/2 tsp Cumin Seeds (to temper / tadka)
2 Dry Red Chillies (to temper / tadka)
1 tbsp Ghee (clarified butter) (to temper / tadka)
A sprig of Curry Leaves (to temper / tadka)
A pinch of Asafetida (to temper / tadka)
Directions:
In a large bowl add yogurt and water.
Beat well until it blends well.
Add besan (chickpea flour) to it and blend well until there are no lumps. Add the yellow turmeric paste, white turmeric paste, green chili paste, ginger, pepper powder, cardamom powder, cloves powder, cinnamon powder, sugar and salt.
Blend well until all the ingredients incorporates well.
Heat ghee in a pan or kadai. Add all the ingredients mentioned in the To Temper table.
Once the mustard seeds starts to splutter, add the yogurt mixture to it.
Bring it to boil and garnish with coriander leaves. Serve hot with Khichdi.