Gujiya (indian Festive Sweet With Dry Fruit And Mawa Stuffing)
To me ''Gujiya'' is synonymous with Holi. In our home it is as indispensible as buying colours on Holi. It is a yearly ritual not because it is difficult to make but because it is made in huge quantity and then it is distributed among friends and relatives and is consumed for a month or so at home. I still remember how I and my brothers used to remain awake at night assisting my Mother and Father in making Gujiyas. We still cannot think of making gujiyas without my father. He does not know cooking, but he is best in locking the side of the gujiya. He says, he leaned it from Grandmother. He too used to assist her when she used to make Gujiyas….hmmm family tradition. The first time I tried my hands in making Gujiya was when I was just 12. I insisted that I can make gujiyas and took two rounded balls. I rolled them on rolling pin, kept a spoon full of stuffing at the centre and asked my father to lock the side. My father said that I have not rolled them properly and the poori is thin at the centre, if I fry them, it will all come out in oil. I was a bit disappointed and went to my mother. She said the same thing, but to make me happy, she cooked them on low heat on a pan. I was thrilled to see my '' Gujiyas'' and shared it with my brothers.
Here I am describing the traditional method of making Gujiyas. Today you have the option of fry them in Airfryer or bake them in oven to avoid oil.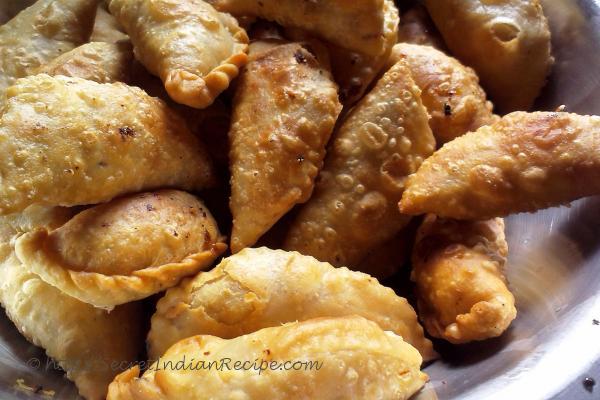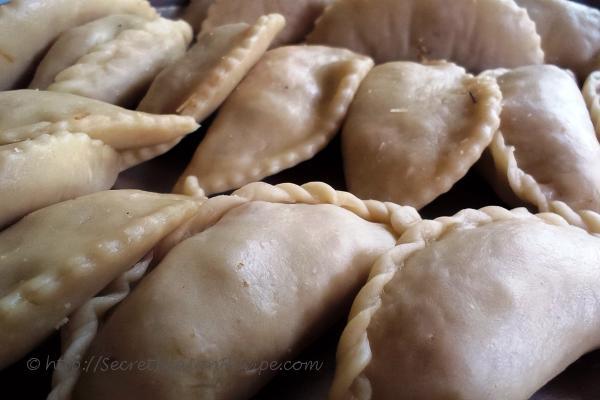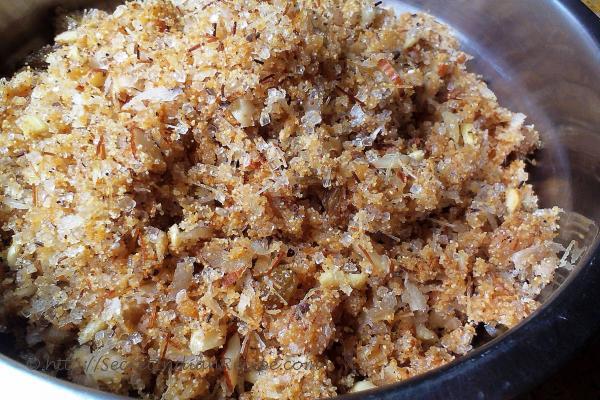 Ingredients:
For stuffing –
Mawa / Khoya (Solid Condensed milk) – 250 grams
Sooji (Semolina) – 250 grams
Sevai (Vermicelli) – 100 grams
Cashew – 50 grams
Raisins – 50 grams
Almonds – 25 grams
Dry Coconut – 1 (finely grated)
Sugar – To taste (Depends upon sweetness of mawa)
Ghee – 7-8 tablespoons
For the Outer Cover-
Maida /Refined Flour – 500 grams
Ghee – 100 grams
Oil – for frying Gujiya
Directions:
Begin by chopping the dry fruits. The size should be neither too small (you will not get the individual taste) nor too big (while frying it may break the thin Crust). Check the stuffing picture.
Now heat 4-5 tablespoon of ghee in a pan and roast the semolina first. Keep the flame medium and roast till it turns a little brown and you can get the lovely aroma of roasted semolina. Transfer it on a plate.
Again heat 2 tablespoon of ghee and roast the vermicelli. Keep the flame low as it may burn the vermicelli. As it browns a little, take it out on a plate.
Now its time to roast the dry fruits. Heat 2-3 tablespoon of ghee and roast the dry fruits. Keep the flame low. Just roast it for 1-2 mintues, till the dry fruits brown a little.
Now take a bigger bowl or pan and grate or break the mawa into small pieces. Mix roasted semolina, vermicelli, dry fruits, mawa, sugar to taste.
For the crust, combine maida and ghee in a bowl and mix well. Afterwards, add small quantity of water and make a stiff dough. The dough should be stiff but kneaded well.
Once the dough is prepared, take small portions from the dough and make small balls. Roll out each ball carefully in a small chapatti. Apply a little water on the circumference and keep a spoon full os mawa and dry fruits stuffing at the centre. Lift the small chapatthi/ poori from one side and fold it into a semi circle.(this is the traditional shape of gujiya).
Press the side of the semicircle to stick it properly. Now take a gujiya cutter and roll it over the end to ensure it does not open up while frying. Alternatively, you can fold the side spirally with your finger. Follow the procedure for the rest.
Once the gujiyas have been made, keep them under fan for at least 20-30mintues to dry a bit. This helps in frying as well as making them crispy.
Heat sufficient oil in a pan on medium heat. Drop 4-5 gujiyas at a time and shallow fry them till small brown patches appear on the surface. Take them out carefully and serve hot.
Footnotes:
Taste best when served hot.