Gujiyas For Holi
Gujiyas are quintessential for holi! Here I have made gujiyas using fresh coconut but these can also be made using dry coconut.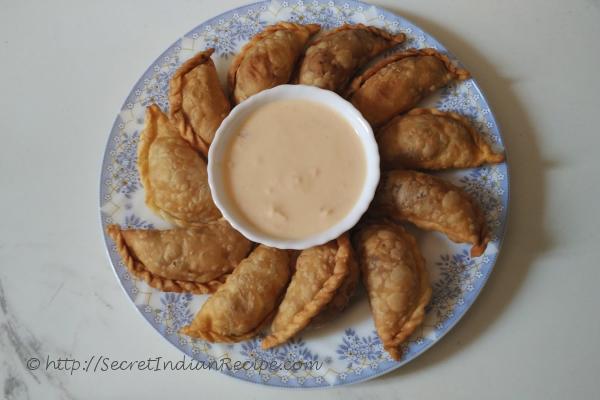 Ingredients:
Freshly Grated coconut- 1cup
Mix dry fruits- 1 and ½ cup
Maida – 1cup
Salt- ¼ tsp
Ghee- 1tbsp and 2tsp
Sugar- 4 to 5 tbsp
Cardamom- 3 to 4
Oil for frying.
Directions:
|| For stuffing ||
Heat 1tsp ghee in a pan. Add 1 tsp sugar in that and let it caramelized but be careful it may burn.
Add coconut first and fry for some minutes.
Then add dry fruits. Fry again. Add cardamom pods and skin to the mixture. Fry again.
Now add sugar and fry again. This mixture should be very dry, so  that the gujiyas can be stored for long.
|| DOUGH||
In a mixing bowl add maida, salt and ghee. Mix properly and gently. Add water and knead to a tight dough. Keep for 15 to 20 mins to rest. 
Roll small circles of the dough, about the size of your palm. Add a spoonful of the coconut stuffing in half part of the circle and fold over the other half forming a half moon shape. Seal the edges and you can use a fork to give a design at edges. You can also use plastic moulds
Make the gujiyas for all.
Now Heat oil in a pan in low or medium temperature.  It is always advisable to fry the gujiyas in low and medium flame so that it won't get soggy soon.
Deep fry till golden brown. Remove from oil and let it cool. Gujiyas are best enjoyed at room tempreture