Gulab Ki Kheer / Rose Pudding Recipe
#ValentineSweet
Gulab ki Kheer is a delicious and fragrant Indian dessert. As the name suggest , the kheer has dominant flavors of rose in it. A chilled creamy rose pudding is perfect treat for Valentine Day. It can be served for summer dinner parties or to make any occasion special ! It not only lifts up the mood but also has a cooling effect on the body.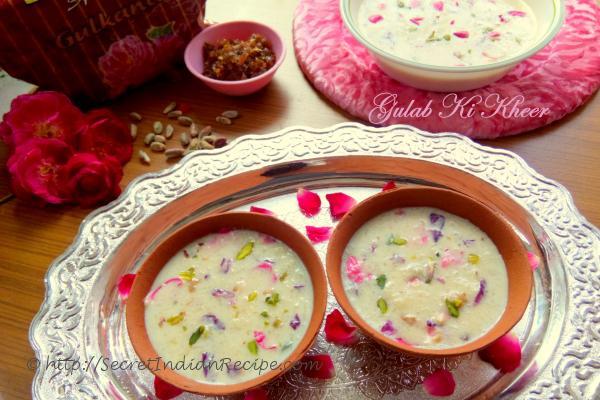 Ingredients:
3 cups of Milk ( I have used full cream milk)
3 tbsp of Basmati Rice
1 tsp Ghee
1 cup fresh Rose petals( desi gulab ki pankhudiyan)
3 tbsp of Rose water (gulab Jal)
1/4 cup Sugar or as required
1/2 tbsp Gulkand ( Rose Petal Jam)
1 tbsp Chopped Pistachio
Directions:
Wash 3 tbsp rice thoroughly and soak for 10- 15 minutes. Meanwhile boil 3 cups of milk and keep aside. In a wok heat 1 tsp ghee and add the soaked and drained rice to it . Stir fry the rice in the ghee on a low to medium flame until fragrant. Put off the flame.
Grind the rice to a coarse powder using a grinder without adding water to it.
Transfer the ground rice powder to the same wok and add the boiled hot milk to it and put on the flame. Let the rice cook in the milk for about 5-7 minutes or until the rice is cooked.
Wash the fresh rose petals thoroughly under running water , add these petals to the rice and milk mixture.
Add rose water and stir the kheer and allow it to simmer for 4-5 minutes more , or until the kheer is creamy and the rose petals blend well with the milk and rice mixture.
Add sugar , mix well and let the milk boil again.
Once the kheer is reduced to the desired consistency and turned creamy , add the chopped Pistachios and Gulkand. Give a quick stir, cook for a minute or so and put off the flame.
Cool the kheer at room temperature and then freeze until serving time. Serve the delicious Gulab Ki Kheer chilled and enjoy with your loved ones !!
Footnotes:
Full cream milk reduces fast and gives a creamy and rich feel to the dessert. You can skip adding white sugar and add honey to the pudding instead on cooling.