Gulgule [sweet Dumplingsmade Of Wheat Flour]
This is one of the most famous North Indian snack served during any ritualistic occasions at home . One such occasion is when a newly wed bride enters the kitchen for the first time she makes this & serve to all family members.These are also offered to god during birthdays & several other pujas.But this does not mean that it is made only occasionally it is made as and when one wants & is served with tea. So this also makes a great tea time snack . Enjoy it the way i do...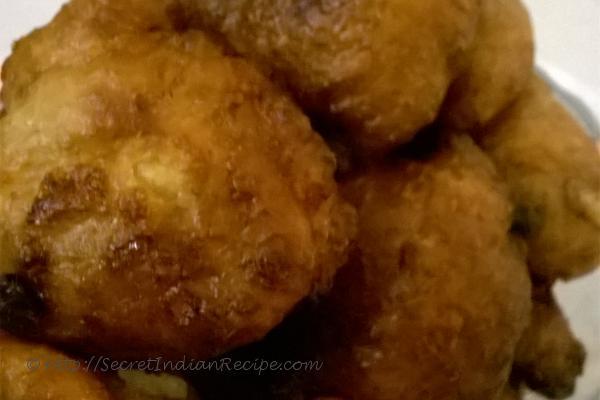 Ingredients:
Wheat Flour 1cup
Miilk 1cup
Powdered Sugar approx 1/2 cup[as per taste]
Cardamom Powder 1/2 tsp
Grated Coconut 2 tbsp
Raisins[kishmish] 10-12
Chironji 1tsp
Vegetable oil/Ghee for deep frying
Kevra Essence A Few Drops
Directions:
In a bowl take milk & wheat flour. Blend well with the help f a hand blender until the mix is very light. It should be of pouring consistency . If u want you can run this in your regular blender as well but lot of mix stick to its blade. Alternatively you can use your hands & mix it thoroughly
Keep this batter aside for 15 min. Now add powdered sugar, cardamom powder, grated coconut, raisins , chirongi & kevra essence to this batter.Mix well.
Heat vegetable oil/ghee in a wok. Once the oil is very hot carefully drop small portions of batter into it with the help of a spoon. Gulgulas don't have a specific shape. once you pour the batter it immediately swells up. Fry till golden brown.
Serve hot with tea.
Footnotes:
When pouring the batter in oil make sure oil is very hot else the batter will scatter all around.
This can be stored in refrigerator for 2-3 days.You can reheat it in microwave for 30s
The given quantity of ingredients will make 12-15 balls. You can use more chopped dry fruits of your choice