Gur Aur Makhane Ki Mithai (jaggery And Lotus Seeds Barfi)
Gur Makhane ki Mithai is consumed especially in winters, they help in keeping the body warm. Gur is good for health since it contains iron, helps in digestion and purifies blood which in turn brings glow to your skin. So keep these bars ready during winters.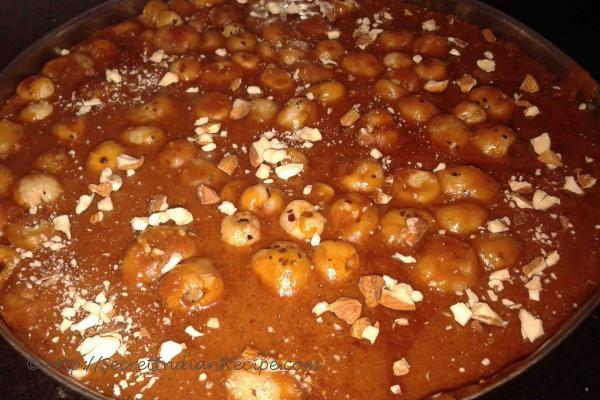 Ingredients:
Jaggery (gur) - 2 cups
Ghee – ½ cup
Makhane – 2 cups
Carom seeds (ajwain) - 1 tablespoon
Dry ginger powder (saunth) – ½ teaspoon
Crushed almonds - 7- 8 pieces
Directions:
Place a fry pan on low heat. Add 1 tablespoon ghee in it.
Now add the makhane to the pan, sauté for 2-3 minutes. Remove the makhane and keep them aside.
Break jaggery into small pieces.
In a thick bottom pan, heat the remaining ghee and add jaggery pieces into it.
Even after jaggery pieces melt down completely, keep stirring it on low flame till the syrup starts bubbling.
Then add the roasted makhane, carom seeds and ginger powder into it.
Mix it well and put the flame off.
Take a plate and apply some ghee.
Immediately, pour the mixture into a greased plate and spread it evenly using a spatula.
Garnish with crushed almonds.
When it is slightly hot, cut into equal pieces of desired shapes using knife or cookie cutter.
Keep this Gur Makhana Mithai in an air-tight container, have it every day for a month.
Footnotes:
Do not heat jaggery for a long time otherwise bars will turn hard.