Gur Ka Paratha (jaggery Stuffed Indian Flat Bread)
The first time, when I had this was in my native village some two years ago. The recipe is very simple, tasty and extremely healthy. It is perfect as a breakfast recipe as it has wheat flour (carbohydrates), jaggery (instant glucose, iron and calcium) and ghee (Fat) – all the three food components required for a energetic start of the day…..Oh! But you need to serve it hot.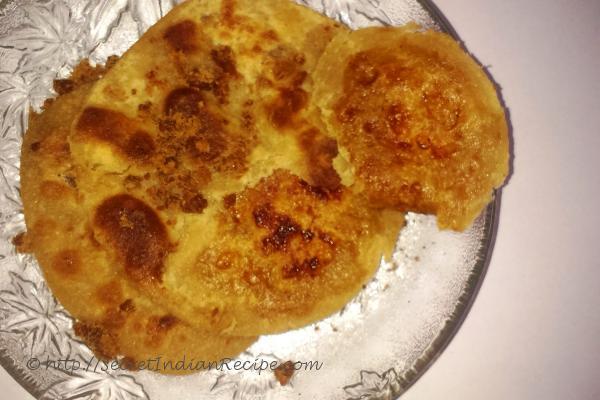 Ingredients:
Atta (Wheat flour) – 1 cup
Gur (Jaggery) – ¼ cup (Grated or mashed)
Ghee – 1 tablespoon
Water – For the dough.
Directions:
Take the atta or wheat flour in a bowl. I prefer wheat flour as it gives me a rusty after taste. You can use all purpose flour also.
Add required amount of water and knead it well to get soft rounded parathas.
After kneading, make four equal sized balls out of the dough.
Take a dough ball on your palm, dust some dry wheat flour and make a hole at the centre by pressing the circumference of the ball with your fingers……It looks like a small bowl.
Fill in the grated or mashed gur(Do not put more stuffing….remember once the paratha is place over the hot tava, the gur will start melting) and then close the opening. Now flatten it slowly over a rolling spin. Follow the procedure for rest of the parathas.
Some people find it really difficult to fill the stuffing my way but for them also I have this easy trick. You can roll out two equal sized chapattis and then keep the gur stuffing at the centre and stick the sides.
Although I prefer following the first method as there is less chances of leakage.
Now switch on the gas and place a tava.
When the tava is heated put one gur paratha and cook on medium flame.
Apply Ghee on both sides and cook till both the surface turn crispy brown.
Take it out and serve hot.
Footnotes:
Always serve hot or else it will not taste so good.
Do not substitute Ghee with any other oil.