Gutti Vankaaya Kura (stuffed Brinjal Curry)
This is a very popular brinjal curry something akin to the bagara baingan. It is a stuffed brinjal curry but I have used the long green brinjals so I did not stuff them. Like the Hyderabadi salan this curry has a poppy seed- groundnut base but it does not taste of groundnuts which makes me love this curry even more.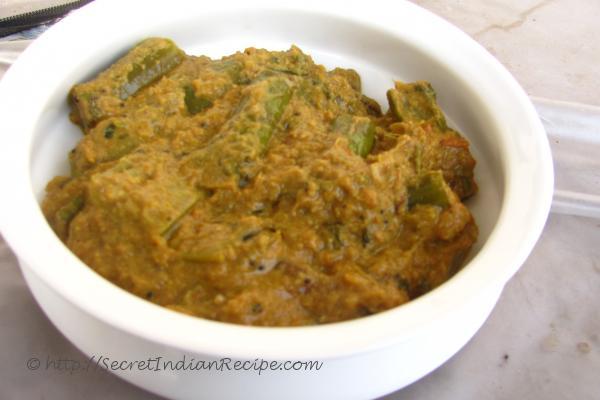 Ingredients:
Brinjal- 6
Groundnuts- 1/4 cup
Grated coconut- 1/4 cup
Poppy seeds- 1 tsp
Coriander seeds- 2 tbsp
Dry red chilies- 3
Turmeric powder- 1 tsp
Chili powder- 1 tsp
Cumin seeds- 1/2 tsp
Onion- 2
Ginger- 1 inch piece
Garlic- 4-6 pods
Cinnamon- 1 inch long piece
Fenugreek seeds- a pinch
Pureed tomatoes- 3
Tamarind- size of a lemon ball
Coriander leaves- 2 sprig
Oil- 3 tbsp
Salt- 1 tsp
Directions:
Wash and chop the brinjal to small pieces. I am doing it because I made this dish using long green brinjals. Ideally you should use small purple ones that can be used for stuffing.
Roast the poppy seeds,fenugreek seeds, coriander seeds, cumin, cinnamon, coconut, and ground nuts along with the dry red chilies in a pan till the ingredients are brown and a toasted aroma comes.
Mince the ginger and garlic. Heat 3 tbsp oil in a pan and saute the minced ginger and garlic.
Soak the tamarind in 1/4 cup of warm water. Saute the onions once the ginger garlic browns.
Add the brinjal and saute for 3-4 minutes before adding the turmeric and chili powder. Add the pureed tomatoes and salt.
Once the brinjal is half cooked add the ground masala paste followed by tamarind.
Let the curry simmer for 8-10 minutes. Garnish with coriander leaves and serve with rice.