Hagalkai Gojju ( Karela Rasavangi ) Aka Bitter Gourd Gravy
This a versatile dish taught by my aunt. It goes well as dinner or a lunch time side dish. A foolproof recipe to even get kids to love karela!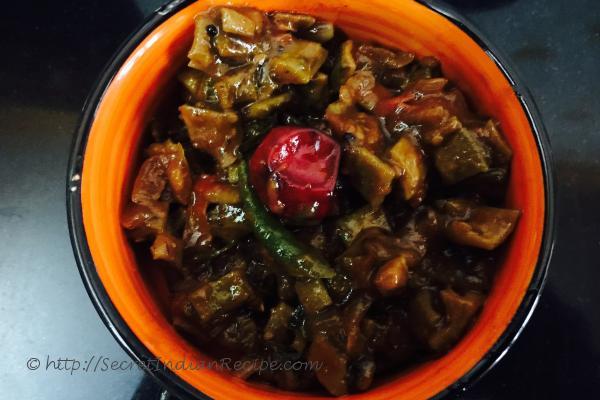 Ingredients:
Karella (Bitter gourd0-1/2 kg
Onion- 2
Tomatoes -2
Rice powder- 2 tsps
Jaggery, according to taste
Rock salt, according to taste
Tamarind pulp, made out of one small tamarind ball (adjust according to the tanginess desired)
Oil to fry
Coriander leaf for garnishing
Oil 1 tablespoon coconut/refined oil
Rai ( Black mustard)-1 tsp
Jeera (Cumin seeds) 1 tsp
Urad Dal ( black lentil) 1 tsp
Curry leaf
Red dry chilli (bore) 1 or 2
Directions:
Chop the karela into small pieces. Deseed it and marinate it in salt for at least 30 minutes. Then squeeze the karela, removing moisture from it. Dry on a tissue paper
Deep fry or shallow fry the karela in oil ( depending on the amount of bitterness one enjoys) Keep it aside on a tissue paper. This helps dampen the oil from the fried karela .
Take a wok. heat oil and then add rai, jeera,urad dal ,hing. Once the rai sputters, add kadipatta (curry leaves ) to it .
Add the onions and fry it until it turns a little pink. Add tomatoes, and green chilli. Let the ingredients cook well. As the tomatoes become soft, add the karela. Mix them well Add salt, tamarind and jaggery. Let it cook well.
Once the ingredients are cooked, add rasam powder ( home made or any brand available at the grocers ). Add the rice powder mixed in a little bit of water ( acts as a good binding agent) to make the gravy thicker .
Once cooked well, it looks like a dark golden gravy. Garnish it with coriander leaf as a final touch
Footnotes:
The dish should have a nice blend of all flavours of bitterness, spice, sweetness and tangy.
Can be eaten as a side for puri , chappati,or even mixed well with white or red rice. Will make a sumptuous meal !!