Hamjoli
This gulab jamun is made up of mava and toping is also made up of mava (Khoya). If anyone makes gulab jamun with milk powder/packet, toping can also be made up of khoya / milk powder. #diwalirecipe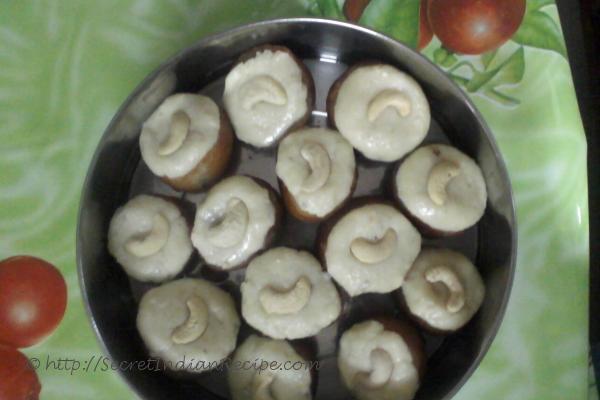 Ingredients:
Ingredients For Gulab Jamun: Mava 250 gm
Maida 1 tbsp
Rava 1 tbsp
Baking Powder ½ tsp
Cardamom Powder 1 tsp
For Frying ---- Oil OR ghee
Sugar Syrup for Gulab Jamun 500 ml.
Ingredients For Hamjoli: Mava 250 gm
Icing Sugar 1 tbsp
Vanilla Essence 3 – 4 drop
For Garnishing --- Cashew Nut
Directions:
1. First of all mix all the ingredients of gulab jamun.
2. Make big sized gulab jamun's 3. Keep it in sugar syrup for 2 hours
4. Heat khoya in a utensil. 5. When it changes to light brown cool it down
6. After cooling it down add icing sugar and vanilla essence 7. Remove gulab jamun from sugar syrup and cut it in half
8. Now cover gulab jamun with khoya like you are icing for muffins 9. Put cashew nut on the top of gulab jamun
10. Serve it in diwali with new look of traditional sweet.
Footnotes:
Strain sugar syrup completely from gulab jamun.