Hara Bhara Paneer Tikka / Indian Cottage Cheese In Green Marinade
Paneer Tikka is a popular Indian Starter. A delicious vegetarian dish in which the Paneer ( Indian Cottage Cheese) chunks along with veggies like Onion and Bell peppers are coated in a green marinade made from fresh coriander and mint leaves and spices. The marinated paneer and veggies are arranged on a skewer and then grilled. I have followed the recipe from a cook book by Maunika Gowardhan. Have made few changes in the original recipe to match the taste my family likes. This happens to be my son's favourite starter. As the recipe is very simple and can be made easily at home , i make this dish often , specially when i make a fresh batch of green chutney.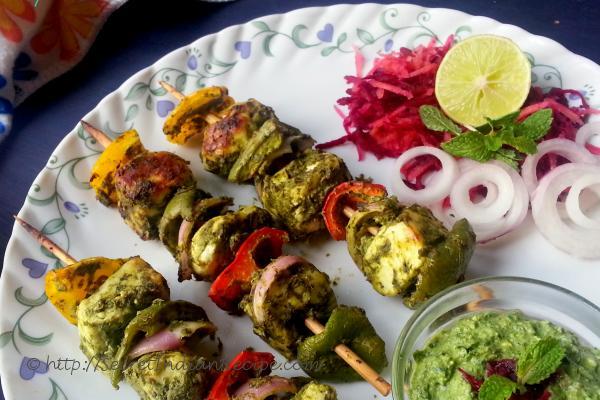 Ingredients:
500 grams Indian Cottage Chesse / Paneer , cut into 10 cm cubes (I have used homemade Paneer)
1 medium Green Pepper, cut into 10 cm cubes
1 medium Red Pepper, cut into 10 cm cubes
1 medium Yellow Pepper, cut into 10 cm cubes
1 Large red Onion , cut into 10 cm cubes.
3 tbsp. Hung Curd (Tie ½ cup curd in a muslin cloth and hang for 1-2 hours)
50 grams fresh Coriander
50 grams fresh Mint leaves
1 Green chilli
3-4 Garlic cloves
½ inch Ginger root
1 tsp Cumin powder
1 tsp Coriander powder
1 tsp Red Chili powder
½ tsp Dry Mango powder / Amchur Powder
Salt To taste
Melted Butter for basting
1 tbsp. Lemon juice
Chaat Masala
Directions:
Preheat the oven to 180 degree Celsius for 10 minutes if using an oven. I have used a convection microwave with a grill option, where temperature is already set by default so no preheating needed in this case. Put 3-4 wooden skewers in water and leave them to soak.
In a blender jar take coriander and mint leaves, green chili, garlic cloves and ginger and make a smooth paste using little water. Our green paste is ready.
For the Marinade, in a large mixing bowl , take hung curd . To it add the green paste, cumin coriander powder , dry mango powder , red chili powder and salt. Mix well and set aside.
Add the paneer cubes along with bell pepper and red onion cubes. Mix well and marinate for at least 1-2 hours. If you have time you can marinate even longer. The more you marinate the paneer becomes more flavorful.
When ready to cook, grease the skewers and baking sheet. Thread the paneer and vegetables alternatively onto the skewers. Place the skewers on a baking sheet in the preheated oven at 180 degree Celsius and cook for 20-25 minutes.
In case you are using a grill option in a convection microwave, select the grill option. Keep the skewers on a greased plate onto the high rack and grill for 8-10 minutes.
If you do not have an oven or microwave, you can use a greased tava and keep the skewered paneer onto it and cook on a medium flame for 10-12 minutes. In all the cases turn the skewer midway and brush with melted butter to assure the paneer and veggies do not dry up.
Sprinkle the lemon juice and chaat masala and serve the hara bhara paneer tikka with mint chutney and salad and enjoy !
Footnotes:
We are looking for paneer which is soft , coated with marinade and charred around the edges. Do not overcook the paneer as it might turn rubbery.
For those who intend to use a tava, can add 1-2 tsp of chick pea flour to the marinade to ensure the paneer does not stick to the tava.