Hare Pyaaz Ka Paratha (spring Onion Paratha)
Spring Onion Paratha is very good substitute to your usual stuffed parathas. Spring Onion offers many health benefits. They are high in fibre, vitamin A, C and K, so helps in improving digestion. Besides this, they are low in cholesterol, sodium and saturated fats so helps in weight loss also. It makes perfect meal for kids for lunch box or morning snacks. The preparation is also quite simple and quick to make. Here's a paratha recipe which is low in calories, yet tasty and easy to digest.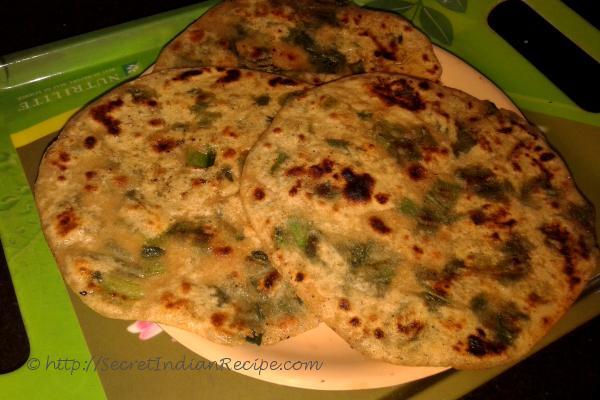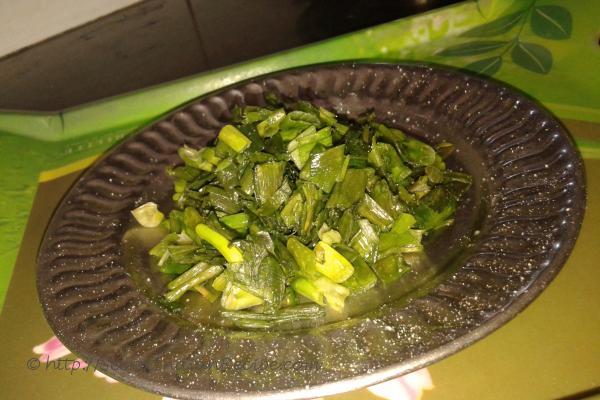 Ingredients:
For the Stuffing:
Finally chopped spring onions (green and white part) – 1 cup
Finally chopped green chillies – 1 piece
Finally chopped ginger - 1/2 teaspoon
Roasted Cumin powder - 1/2 teaspoon
Ajwain (Thymol seeds) - 1/2 teaspoon
Salt to taste
For the Dough:
Wheat flour - 2 cups
Salt - 1/2 teaspoon
Oil - 2 tablespoon
Water for kneading
Refined oil - for frying
Salt to taste
Directions:
Dough: Take the flour (atta) in a bowl; add salt and one tablespoon of oil and mix.
Now add required amount of water and make soft dough. Wrap it in muslin cloth and keep aside.
Stuffing: Take spring onions in the bowl and add roasted cumin powder, chopped ginger, chopped green chilies, ajwain and mix.
Now take small portions of dough and roll it like roti.
Add stuffing at centre of the roti leaving edges open to seal it into paratha.
Heat a non-stick tawa, place the paratha on it and cook on a medium flame, using little oil till both sides turn light brown in colour.
Yummy and delicious Spring onions paratha is ready to eat with fresh curd.