Hari Mirch Ka Achar (green Chilli Pickle In Mustard)
Green chilli pickle is a delightful way to spice up meals. Meals are generally served with different condiments of which pickle are most common. It increases sensitivity of tasty buds. Many of us like chilli pickles. This is a tasty pickle with chilli and mustard.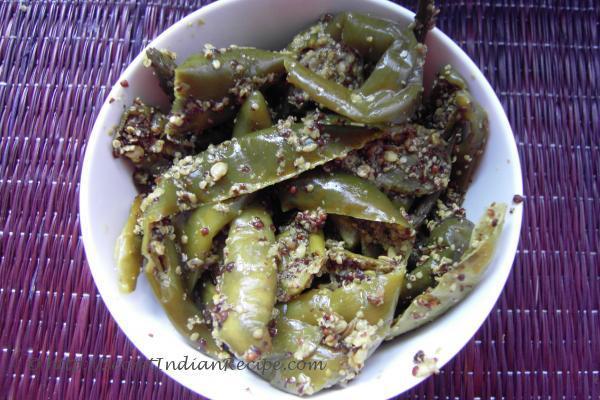 Ingredients:
Green chilli- 250 grams
Mustard seeds - 2 tsp
Coriander seeds- 1 tsp
Salt-to taste
Fenugreek seeds - 1 tsp
Asafoetida- 1/4tsp
Turmeric powder - 1 tsp
Gram masala - 1/2 tsp
Amchoor powder - 1 tsp
Vinegar- 1 tsp
Oil- 2 tsp
Fennel (saumb)-1 tsp
Directions:
Wash and dry the chillies and cut a vertical slit in each one.
Combine fennel, coriander, fenugreek seeds. Grind coarsely. Add salt mango powder and turmeric to the ground spices and mix well.
Add salt, mango powder and turmeric to ground spices. Mix well.
Heat oil until quite hot and pour over the dry ingredient mixture. Mix well.
Add vinegar and mix well again.
Stuff the spice mix into green peppers and place in a glass jar.
Let the jar sit 2 days at room temperature or 1 day in direct sunlight.
Pickle is ready to serve.
Footnotes:
Chilli pickle can keep in refrigerator up to 1 month.