Hari Pyaaz Aaloo Ki Sabzi (spring Onion And Potato Stir Fry)
I love spring onions be it in Chinese food or in my curries. This happens to be a simple stir fry, a favourite of my dad's that my mom made quite often. I ended up ordering 10 bunches of spring onions instead of 5 recently and used 5 bunches for a Chinese preparation but was exasperated as to how I would use the remaining 3 bunches. That's when I remembered this old recipe of mom's. But I spiced it up a little more with my newly influenced Kannadiga flavours. I gave it a grand tempering which mom never did. And I ended up sharing half of it with my maid this has become a common practice these days like those old days when you swap your lunch box at school. I share stuff with her and she gets back with new stuff that inspired me or educates me on a new recipe. And I still have leftovers of this stir fry from last Friday.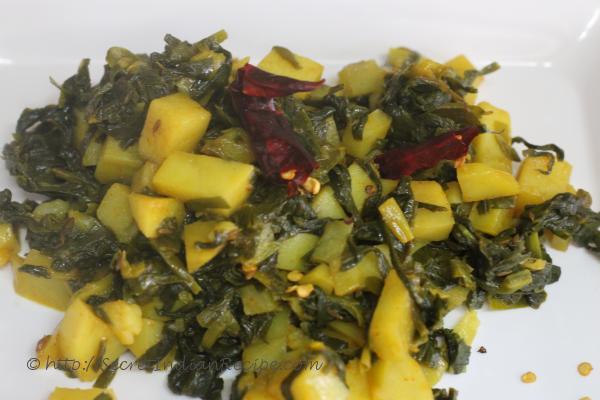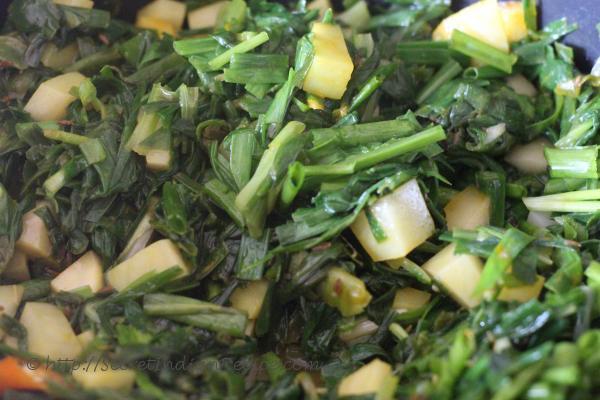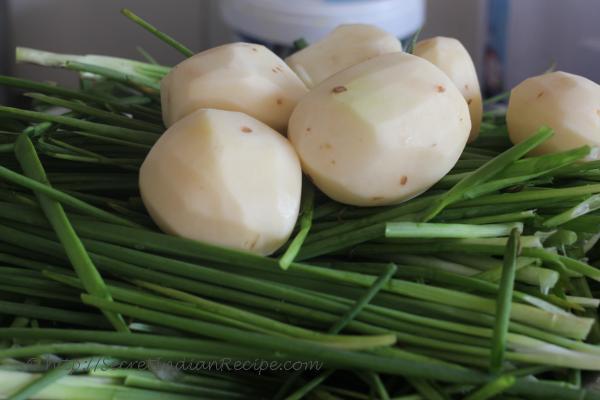 Ingredients:
Spring onions- 5 bunches
Potatoes- 6
Garlic- 7 cloves
Green Chilies- 6
Turmeric powder- 1/2 tsp
Chili powder- 1 tsp
Asafoetida- 1/4 tsp
Cumin seeds- 1 tsp
Dry red chilies- 6
Curry leaves- 6-8 leaves
Salt- to taste
Oil- 1 tsp
Directions:
Chop the spring onion finely. Peel and cube the potatoes.
Heat the oil in a pan. Add the cumin seeds first and after the splutter add the curry leaves and dry red chilies.
After the tempering saute the green chilies first and then the potatoes with salt. Cover and cook till the potatoes are half done.
When the potatoes are half done add the spice powders and saute them with the potatoes for 2-3 minutes.
Now add the finely chopped spring onions and cover and cook till the spring onions are well cooked.
Serve with rice or rotis.
Footnotes:
Spring onions are salty so kindly adjust slat levels for this dish.