Hariyali Pulao (green Herb Rice)
A very aromatic rice with four green leaves- dill, coriander, mint and curry leaves. I feel it has all the Indian herbs from the North to South of India. It was introduced to me by my maid. I have made this pulao with potatoes and green peas though there is no rule regarding the use of veggies. It is the herbs that form the base for this pulao the choice of meat or veggies is optional. It is quite common to have this base for a biriyani in Bangalore which is not so common where I come from. Though there are four kinds of herbs, mint and coriander is higher in proportion and this balance should be maintained for the right flavour.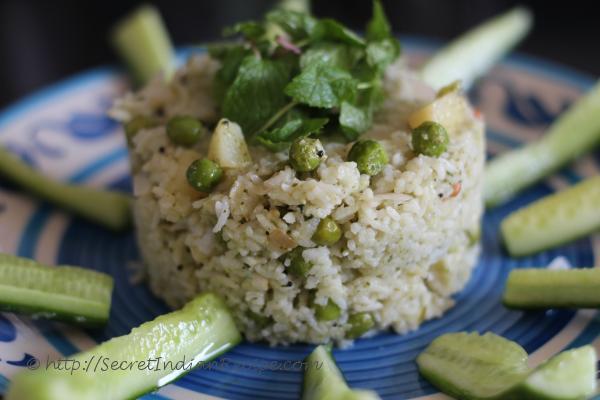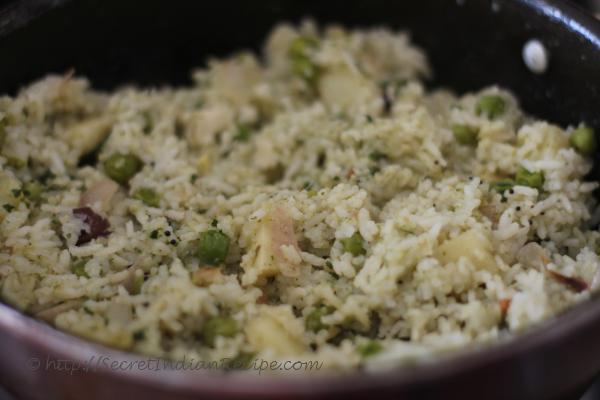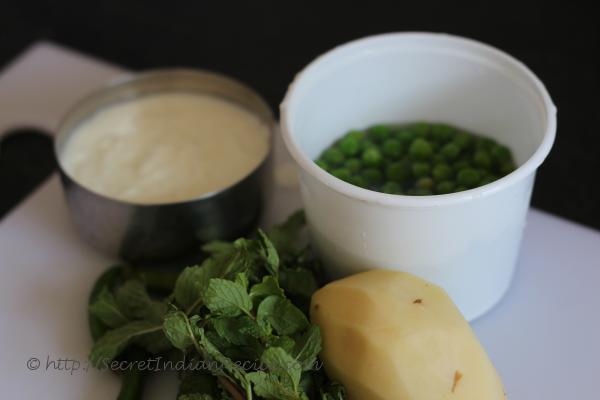 Ingredients:
Basmati rice- 1 cup
Green peas- 1 cup
Potatoes- 2
Onion- 1
Ginger-garlic paste- 4 tsp
Green Chilies-6
Coriander leaves- 1/4 cup
Mint leaves-1/2 cup
Dill leaves- 1 sprig
Curry leaves- 10- 15 leaves
Oil- 1 tbsp
Salt- to taste
Cumin seeds- 1 tsp
Curd- 1 cup
Turmeric powder- 1/2 tsp
Water- 2 cups
Directions:
Boil the potatoes and green peas till they are half cooked. Use 2 cups of water to boil the potatoes and when the potatoes are half done add the peas and cook for 5 minutes.
Grind a paste out of dill leaves,coriander leaves,curry leaves,mint leaves, ginger-garlic paste and green chilies.
Some pressure cook the rice ahead but I don't. Soak the rice for 10 minutes in a bowl.
Heat oil and add the cumin seeds. When the cumin splutters add the chopped onions and the ground herb paste. Saute for 4-5 minutes, till the raw smell of these herbs abate.
Add turmeric powder, boiled potatoes and green peas along with salt. Add the rice after this.
As soon as you add the rice do not stir as this will break the rice because it has been soaked. Add 2 cups of water to cook the rice.
Please use the same cup used to measure the rice for the water. The ratio to be maintained is 2 cups of water for 1 cup rice.
Cook the rice over slow flame for 15 minutes and hariyali pulao is ready to be served. Garnish with mint leaves and serve with a mint raita.