Hash Brown Pizza Bites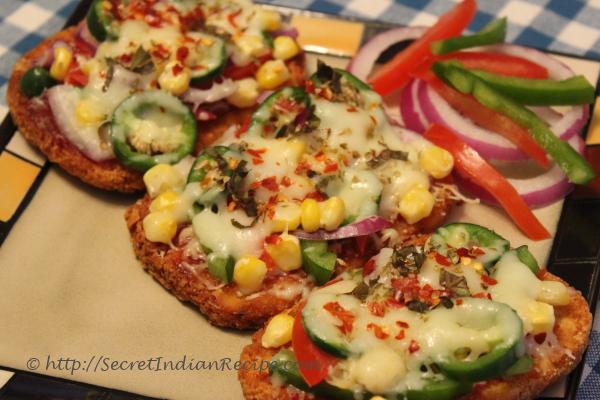 Ingredients:
For Hash Brown : Potatoes – 3 (boiled, peeled and grated)
Onion – 1 (Chopped)
Rosemary – 1/3 tsp
Unsalted butter – 2 tbsp
Salt – to taste
Oil – to shallow fry
For Hash Brown Pizza Bites : Hash Browns – 5
Frozen Corn Kernels – a handful
Onion – ½ small (sliced)
Bell Pepper – ½ small (sliced)
Tomato – ½ (sliced)
Jalapeno – ½ (sliced)
Red Chilli Flakes – ½ tsp
Dried Oregano – 1/3 tsp
Basil Leaves – 4 to 5 (chopped)
Pizza Sauce – as required
Mozzarella Cheese – 1 cup
Directions:
For Hash Brown : Heat butter in a pan and saute onions until they turn translucent. Now add rosemary. Turn off the heat.
Take a large mouth bowl, add grated potatoes, onions, salt. Mix well.
Divide the mixture into rectangular shape (or desired shape). Freeze them for 2 to 3 hours.
Heat oil in a pan and shallow fry the hash browns until golden and crisp. Drain on an absorbent paper.
For Hash Brown Pizza Bites : Take a oven saved tray and arrange hash browns on it. Now spread pizza sauce on each hash brown.
Now arrange all vegetables (corn kernels, jalapeno, bell pepper, onion, tomato) over them.
Sprinkle mozzarella cheese, red chilli flakes, oregano, basil leaves and put into the preheated oven at 350 F for 5 to 7 minutes or until cheese starts melting.
Transfer the Hash Brown Pizza Bites into a serving plate and serve immediately with ketchup or dip.