Healthy Mixed Dal Adai
This adai is one of my favorite.especially kids ll love it. It is highly nutritious because we added here dals, lots of coriander leaves, curry leaves, small onions gives very tasty & crispy.This is traditional south indian dish we often makes this.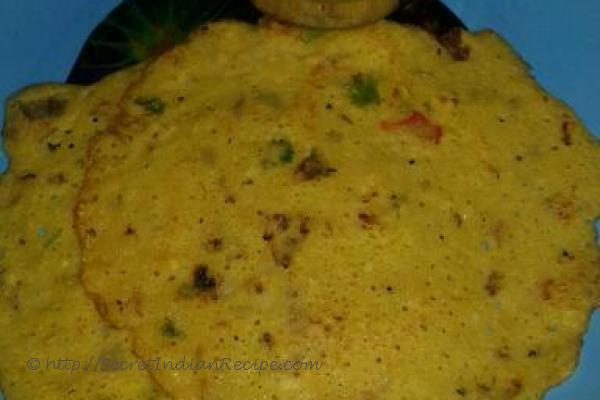 Ingredients:
Raw rice - 2 cups
Toor dal-1 cup
Bengal gram- 1 cup
Yellow moong dal- 1 cup
Urad dal- 1 tbsp
Pepper- 6
Cumin seeds- 1 tbsp
Red chilly- 6
Small onions/ shallots- 3/4 cup chopped
Curry leaves- 2 sprigs
Coriander leaves- handful
Asafoetida - 1/4 tsp
Salt - to taste
Oil -as required
Directions:
Soak the rice and dal for 3 hours. Then grind it with pepper, red chilly and cumin seeds and salt.
Adai batter must be grinded coarsely and it mustn't be smooth like dosa batter. Another thing, Adai batter can be thick, you need not add much water. Next point, make Adai thick in size and close it with lid always.
Just before making adai,add the onions,coriander,curry leaves and mix well.
Heat the tawa and spread little oil and spread one laddle full ofbatter as thick adais,make a small hole in the middle and again pour little oil around. Let it get cooked for sometime.Turnover the adai and cook the otherside too till golden brown. (you can cook covered with a lid, before flipping ).serve hot with coconut chutney or tomato chutney or pickles .
Footnotes:
small onions tastes best, so use lots of onion and if possible fully small onions, if lazy or dont have in stock, mix both and make. More the onion in the batter, more tasty the adai gets.
Also can add drumstick leaves tothis Adai.