Healthy Soya Seekh Kebabs With Fresh Peppercorns
I had no idea that I would make Healthy Soya Seekh Kebabs with Fresh Peppercorns on a great evening a few months back. I was craving for a spicy snack. As it was a Tuesday, it was strictly a vegetarian day for us (due to religious reasons). Even using onion and garlic on Tuesdays is a strict no-no in my family. Keeping these points in my mind, I had to think of a quick snack.
My Healthy Soya Seekh Kebabs with Fresh Peppercorns are a great vegetarian snack. The star ingredient of the Kebabs are the raw black peppercorns, which impart the perfect crunch and texture, distinct from the commonly available dried peppercorns in their pronounced fruitiness. What I love about green peppercorns (or the ones used here, which turned black just recently) is that these are juicy and the pungency is a bit lesser than the dry peppercorns. The recipe is not only very easy, but just takes 20 minutes! The ingredients are non-fancy and basic. What's more, these kebabs are cooked in very less oil. Enjoy this no-onion, no garlic, no-starch and no-egg recipe!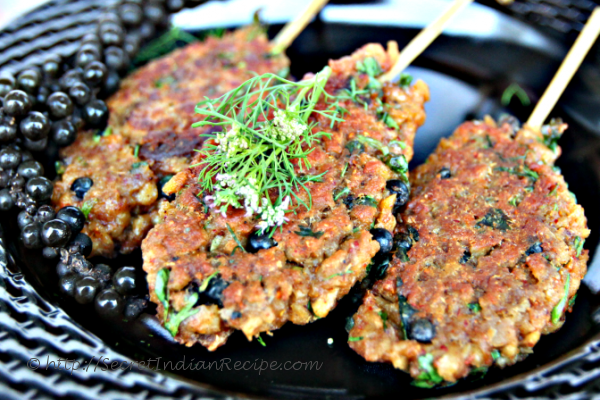 Ingredients:
Fresh peppercorns (green or black): 1.5 sticks
Soya nuggets: ¾ cup
Chickpea flour or Besan: ½ cup
Brown bread: 1 slice
Coriander leaves (finely chopped): 2 tsp
Salt: ½ tsp
Water: Just enough to bind everything together into a dry dough
Pav Bhaji Masala: 1.5 tsp
Rice barn oil: 1.5 tbsp
Medium-sized wooden skewer sticks
Directions:
In a bowl, lightly mix the chickpea flour and the soyabean nuggets. Add the fresh peppercorns, salt, Pav Bhaji Masala, bread (torn into small pieces) and the coriander leaves.
Now add the water carefully while mixing the ingredients. Stop adding water when you can just bind everything together to make a dough. Don't knead the dough. Mix the ingredients softly with hand, and ensure that the bread pieces are broken down. Check the seasoning and adjust accordingly.
Make six oval shapes with the dough. Insert the wooden skewers in each and lightly press the kebab to the skewer. Let the kebabs dry out at room temperature for 2 min.
Heat oil in a non-stick pan. Reduce the heat to a minimum and gently add the soya kebabs. Press each kebab slightly so that you get a flat shape. Cook for 7 min on each side, or until well-browned. Serve these kebabs with sweet and sour Imli ki Chutney (tamarind chutney).