Hearty Chocolate And Semolina Halwa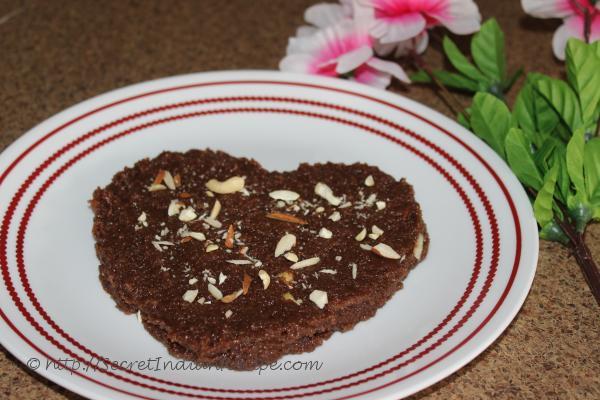 Ingredients:
½ Cup Semolina
1 tbsp Cocoa powder
4 tbsp Ghee
½ tsp Green Cardamom powder
½ cup Sugar
1-1/3 cup Boiled Water
Sliced Almonds and Cashewnuts, for garnishing
Directions:
Heat ghee in a kadhai.
Once the ghee melts, add semolina and roast till it starts giving a nice aroma and the color changes to light golden brown.
Add cocoa powder. Mix it well.
Now add the boiled water slowly and keep stirring the halwa.
Add sugar and green cardamom powder and mix well.
Once the sugar mixes completely, cover the kadhai and let the halwa simmer for 2 more minutes.
Take a heart shaped cutter and put it on the serving plate. Now transfer the halwa inside the cutter and flatten it equally.
Take out the cutter and garnish halwa with the sliced almonds and cashewnuts. Serve hot.
Footnotes:
If you want, you can also use chocolate chips for garnishing.
Other Indian Recipes that you may Like !