Hesarubele Payasam (kheer)
"Payasam" is a very popular Indian dessert and is prepared has offering to god during festival's and is prepared in all most every occasion. One of the most common Payasam is "Moong dal payasam" or "Hesaru beli Payasa". Yellow moongdal has a very low calorie and it is very easy to digest. Yellow moong dal helps for increasing height in children and also promoting their health. It is a great source of dietary fiber, iron and protein. It is also very much essential to check for pebbles and stones in Moongdal before cooking and it must also be soaked in advance before making any dish.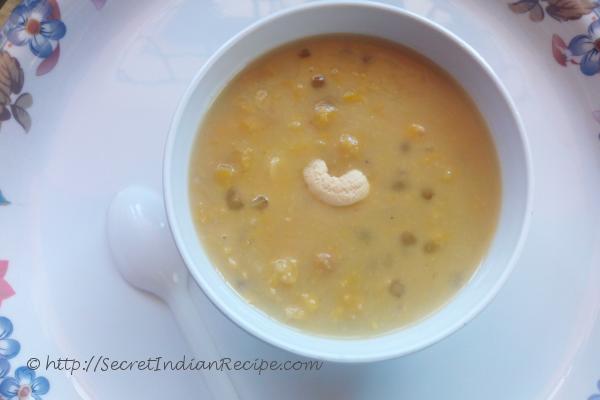 Ingredients:
Yellow MoongDal / Hesarubele 1 bowl
Sago ( Sabudana) 1 cup
Grated coconut - 3 bowl
Jaggery 1 bowl
Cashew nuts few (as per your requirement)
Raisins few (as per your requirement)
Ghee 1-2 Tsp
Cardamom as per your requirement
Directions:
Soak the sago in a cup of water for an hour. After 1 hour drain the water from the sago and keep it aside to dry for another 30 minutes
Add grated coconut Cardamom and ½ bowl of water in a mixer grind it well to form a thin paste, transfer the mixture into strainer and squeeze the liquid out from the mixture. The paste of coconut can be mixed up once again in mixer along with water and liquid can be squeezed out for 2-3 times from the same coconut paste.
The extracted milk from coconut has to be heated along with moong dal until the dal softens
Add jaggery to moong dal until it melts and stir it continuously
Take another bowel and fry the sago for about 1-2 mints with ghee Also fry cashews and Raisins with ghee
Add sago to the moong dal and stire them well in medium flame.
Finally add the cashews and raisins "Hesaru bele" Payasam is ready to serve
Footnotes:
Moong dal has to be washed well before using it for cooking
Moong dal and coconut milk has to be cooked well, this will enhance the taste The quantity of coconut milk should not be more than that of dal