Hilsa Kichuri (bangladesh - Recipe)
Bangladeshi people like Hilsa fish very much, Hilsa of Padha river is famous all over the world. They prepare lot of dishes of Hilsa, this recipe is one of them.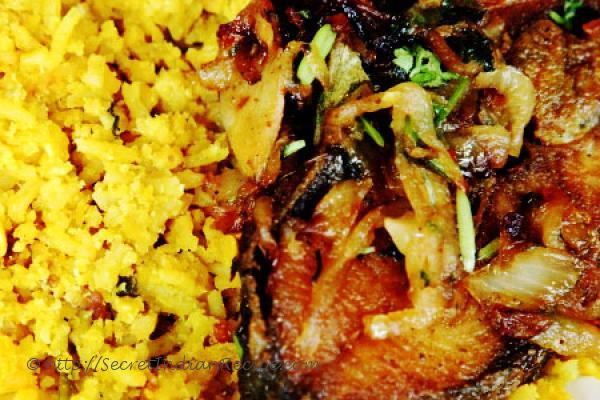 Ingredients:
Hilsa fish pieces 8
Gobinda bogh rice 2 cups
Moogh dal (green gram) 1 cup
Green chilli 5/6
Turmeric powder 1 tbsp
Onion paste 2 tbsp
Mustard oil ½ cup
Salt to taste
Onion sliced 1 cup
INGREDIENT FOR TEMPERING
Bay leaf 2
Cardamom green 3 crushed
Cardamom brown 2 crushed
Cinnamon 2 stick
Ginger chopped 1 tbsp
Cloves 2
Directions:
Clean the fish pieces and rub salt and turmeric on the pieces Lightly fry the pieces and keep aside Fry the onion slices in crispy and brown in color In a pan toast the dal lightly and clean with water, drain out the water Heat oil in a heavy bottom pan, add the ingredients of tempering Add onion paste and fry for few minutes Add rice and mix with the paste, add dal, turmeric powder and salt, stir well Add green chilies ( for little more spice, you can add red chili powder also) Pour 5 cups hot water and cover the pan and cook for 10 minutes Add fish pieces and cook for 5 minutes Sprinkle fried onion Serve hot
Other Indian Recipes that you may Like !