Himachali Sweet Saffron Rice
#DiwaliRecipe #DiwaliRegionalRecipe I always enjoy the diversity that my palate offer while traveling to different places of India .And i have been always curious to know the food story behind any traditional dish. Pahadi cuisine always impress me with it's simplicity and flavorsome dishes. Himachali cuisine is one of such pahadi cuisine & today I am talking about a hiamchali dessert called "Meethi Chawal" or sweetened rice which is served as a dessert in any social ceremony or any festive day. The food served as mid day feast in any religious function is called "Dhaam" and it's incomplete without this traditional sweet dish flavored with saffron.
Trust me this can make your Diwali more brighter with it's delicious taste and fragrance.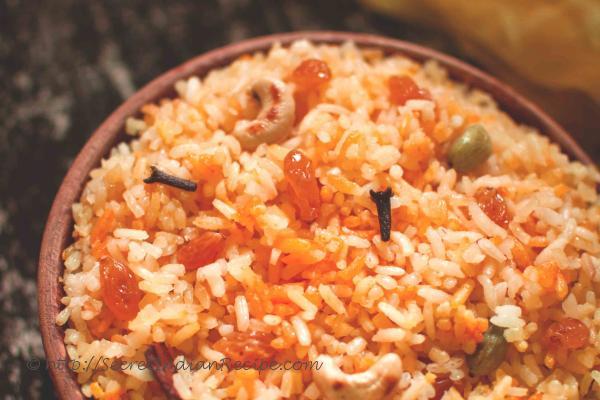 Ingredients:
2 cups White Parboiled Rice
1 cup Sugar
5 Cloves
6 Green Cardamom
1 inch Cinamon
1/4 tsp Saffron
4 tbsps Milk
4 tbsps clarified Butter
2 tbsps Cashewnut
4 tbsps Raisin
Water
Directions:
Soak rice for 15 minute. Boil 5 cup water with clove, cardamom and cinnamon. When water start boiling add soaked rice. Cook it until they are 80% done. Drain and rinse twice with normal water .Soak saffron strands in warm milk in a bowl.
Now in a pan heat 1 tbsp ghee (clarified butter), fry cashew nut to light golden color. Take them out. In the same pan fry raisin for 30 sec and take them out.
In the same pan sprinkle 2 tbsp sugar and heat till they just change into golden color. Switch off flame and add cooked rice. Mix well.
Grease a deep vessel or biriyani-pot with 1 tbsp ghee. Layer half of rice at bottom. Spread half of the fried cashew nut and raisin. Layer 1/2 cup sugar. Sprinkle half of saffron milk.
Now spread the rest rice on top of sugar layer. Spread rest fried cashew nut and raisin. Sprinkle rest sugar. Sprinkle saffron milk. Add 2 tbsp ghee on top. Close with a fitting tight lid.
Put a tawa at lowest flame.Put biriyani pot on tawa and let it cook for 15 minute. Once cooked , serve hot.
Footnotes:
If lid of biriyani pot is not tightly fitted ,you can seal the lid with atta-dough like we do while preparing biriyani. The purpose is not let the flavor escape in form of steam while cooking on dum process or "slow flame cook" for the last 15 minute. You can reduce the sugar part if you like to make it less sweet.