Hing Kachori
Kachoris are famous all over India and an all time favorite with Bengalis. There are many varieties of kachori. One of them is Hing kachori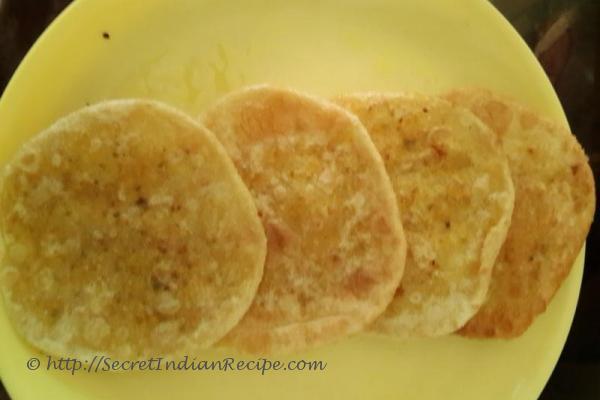 Ingredients:
Maida (Refined flour) - 2 cups
Skinned Urad Dal (Black Grams) 1/2 cup (soaked overnight)
Chillies - 2/3 nos
Hing (Asafoetida) - 1/2 tablespoon
Ginger - 100 gm (grated)
Salt - 1/2 tablesoon
Oil to fry - 1/2 cup
Haldi (turmeric) powder - 1/4 tablespoon*
Red chilli powder - 1/4 tablespoon
Directions:
Knead the refined flour with 1/4 tablespoon salt and water. Make small balls and keep it aside.
For the filling: Coarsely grind the dal (strain it), 1/4 salt and the chillies adding minimum water. It should not become a paste.
In a wok or frying pan heat 1 tablespoon oil. Add hing (Asafoetida). Now add ginger and let it splutter.
Add the dal paste. Stir. Add turmeric powder & red chilli powder and cook till the dal starts leaving the sides of the pan.
Remove from heat and let it cool.
Kachoris: Flatten the maida ball in your palm and put a small amount of the mixture in the middle and close it making small balls filled with the mixture. Repeat with all the balls
With a rolling pin flatten the balls so that it does not break through the maida
Heat oil in a wok. Dip the flattened discs in the oil. They will swell. Turn them and fry the other side too till golden brown.
Remove from oil. Hing Kachori is ready to eat
Footnotes:
* optional
Hing kachoris go best with gravy aloo sabji, chilli kasundi & imli tomato chutney.