#holi Recipe Puran Poli
Puran poli is the traditional maharastrian recipe it is easy to prepare very tempting and also one of my speciality.
Puran poli is served by pouring a good amount of hot ghee along with milk.
Puran poli is made in our family since traditions to traditions.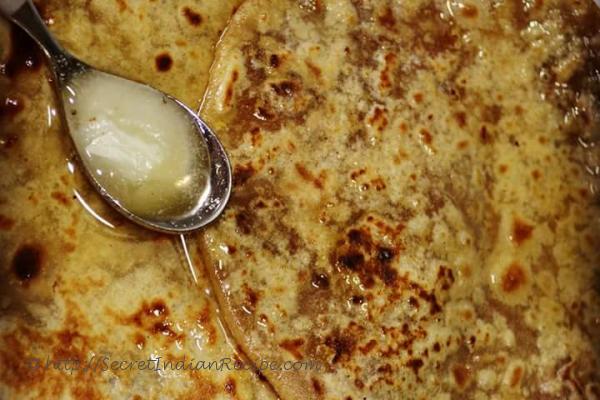 Ingredients:
1 bowl chana dal
1/4 cup jaggery
1/4 cup sugar
1/4 cup wheat flour
1/4 cup all purpose flour(maida)
Salt as per taste
2 tsp nutmeg, caradamon powder
1 tsp saffron
1/4 cup ghee
4 tbsp oil
1 tsp turmeric
Directions:
Take 2 glass of water in a vessel and boil it.
Add chana dal , 1tsp oil, pinch of turmeric and salt to it and let it cook for 15-20min on high flame.
When it is cooked well drain the water away and cool it for 5min.
In a pan pour the cooked dal add jaggery and sugar to it and keep stirring it on a high flame untill it thickens.
Grind the mixture in 'Puran yantra'.(mixer can also be used instead of yantra).
Take the grinded mixture in a bowl add nutmeg, caradomon powder also add kesar and keep it aside.
Take a bowl and sieve maida and wheat flour twice then add salt, 1tsp turmeric powder and 2tsbp hot oil and mix it well.
Then add water to the mixture as per requirement and make a soft dough and apply some oil to the dough from above.
Take the maida and wheat mixture dough make a small round of the dough and add twice the amount of mixture of puran kept aside earlier to the small dough and close it.
Take a rolling board sprinkle some maida on it and using a rolling pin make a puran poli into a perfect circle.
Heat the pan and roast one side of poli and then the other side on a slow flame untill it gets a brownish little colour.
Then take the poli in a plate and pour 2tsbp hot ghee on it and serve hot with milk.
Footnotes:
Dal can also be cooked in pressure cooker.
Instead of wheat flour you can use only all purpose flour(maida).
If u want flavour to it u can use pinapple or mango crush while the dal(puran) is been cooked.