Holi Special Mathri
Mathri is savory snack item. It is also deep fried. The spices in mathri help for digestion. I will try to make colourful marvel mathris. The taste will be same but look will be bit different.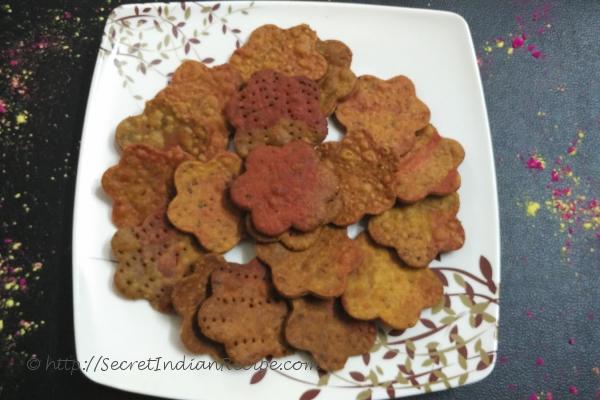 Ingredients:
Whole Wheat- 1cup
Salt – to taste
Carom Seed (ajwain)- 1tsp
Cumin (zeera)- 1tsp (optional but personally I like zeera in mathri)
Black pepper- 10 to 12
Baking soda – ¼ tsp
Ghee- 1 tbsp
Oil for frying
Directions:
Shift whole-wheat, salt and baking soda to a bowl. Add all the spices and mix properly.
Then add ghee and with the fingers mix nicely till it becomes grainy.
Add normal water (room temperature) to knead the dough.
The dough should be tight and hard, even tighter than the roti dough.
Take a big ball; roll it like a big roti.. Now poke the mathris using a fork so that it won't fluff while frying like a puri. With cookie cutter cut in different shapes.
Triangular shape is also possible but it will take more time in frying.
Heat oil in a kadai. The temperature should be low or medium. Fry the mathris in low and medium flame till it is golden brown. drain and let it allow to be cooled and crispy.