Home Made Masala Dosa And Chutney
Dosa is a south Indian recipe. In the southern part of India dosa is prepared almost in every household. It is a healthy breakfast option or even great for lunch or dinner meals. Here is a very simple way of making dosa at home.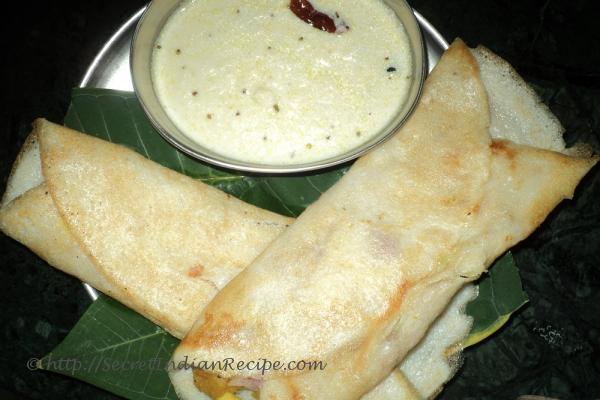 Ingredients:
Ingredient (for dosa)
Rice 100 grams (3.5 ounce)
Urad Dal (Peeled black lentil) 30 grams (1 ounce)
Sooji (semolina) 5-6 tablespoon
Salt 1/2 tablespoon
Refined Oil 6-7 tablespoon
(For Masala )
Onion 1 small size (chopped)
Tomato 1 small size (chopped)
Boiled potato 2
Boiled Carrot and Beans 1 cup
Boiled peas 4 tablespoon
Cumin powder ½ tablespoon
Turmeric powder ½ tablespoon
Red chilli powder ½ tablespoon
Salt ½ tablespoon
Peanuts 2 tablespoon
Cashew and raisins 2 tablespoon
Mustard / refined oil 4 tablespoon
Ingredients (for chutney)
Narial (coconut) ½ coconut (grated)
Channa dal (Bengal gram lentil) 2 tablespoon
Green chili 1 piece
Rai (black mustard seed) ½ tablespoon
Curry leaf 3-4 leaves
Refined oil 1 tablespoon
Salt ½ tablespoon
Directions:
To make dosa soak the rice and urad dal for 6 hours and grind them into a paste a night before so thet the batter can be fermented.
Soak sooji in 1/2cup of water for an half and hour before making dosa..Take the sooji in a bowl, add the fermented batter and salt and mix them all very well.
Then on a frying pan or Tawa apply some refined oil and roast a bread or a paratha to make it non sticky. Once the paratha has been cooked, sprinkle some cold water and rub the surface of the tawa with a cloth. This will prevent the dosa to stick to tawa. Then pour 2 tablespoon of dosa batter and then spread it out with the help of a spatula or a' katori' into a thin round chappati.Apply some oil on the side circumference and the dosa will leave the tawa. Turn the dosa and cook the other side also.. Once both the sides are cooked take it out on a plate and keep the masala in the middle of the dosa.
For the masala mash the potatoes. Heat mustard oil in a karahi and add mashed potatoes, Boiled carrot, beans and peas all together. Mix well. Add tomatoes, cumin powder, turmeric powder, red chilli powder and salt and mix well. Stir and fry the vegetables for 5 mintues. Finally mix peanuts, cashew and raisins and take it out from fire. Place two tablespoon of this masala in the mid of a dosa along with chopped onions and fold the dosa from two sides.
For the chutney roast the channa dal over a pan on Tawa for 2-3 mintues. In a mixture grinder take the coconut, roasted channa dal, green chili and salt and make a smooth paste. In a pan heat refined oil and put rai and curry leaves sauté for a minute and then add the coconut paste. Cook for 5 mintues. The chutney is ready.