Homemade Veg Stuffed Buns
I love breads... The aroma of frieshly baked breads is something I absolutely cannot resist, I have been baking breads at home for while now, but never really made stuffed buns. So this recipe was an experiement and turned out very very well. So here it is, Veg Buns street style!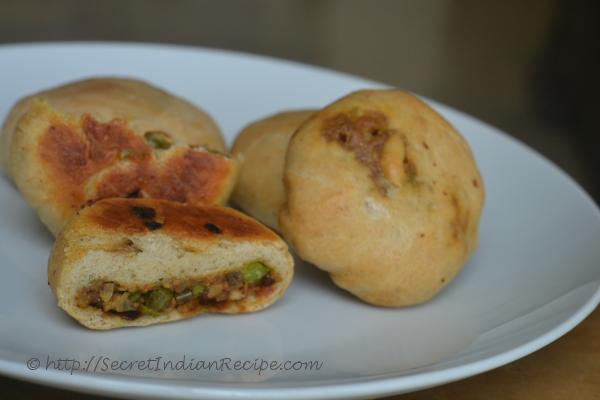 Ingredients:
<< To Make bread (Buns) >>
Maida : 1 Cup
Dry yeast: 1 Packet (20-21gms)
Salt: 2 pinches
Sugar : 1/2 tsp
Oil : 1Tbsp
<< To Make stuffing >>
Onion: 1 finely chopped
Tomato: 1 finely chopped
Onion powder : 1 tsp (optional)
Garlic powder : 1Tsp (or use 2-3 cloves fresh garlic)
Green Peas: 3/4 Cup
Salt to taste
Sugar: 3/4 tsp
Red chili powder: 1/2 Tsp
Pepper powder" 1/2 tsp
Veg Oil: 2 tbsp
Directions:
MAKING THE BUN
Take the yeast in a clean bowl. Add 2 tbsp warm water to that and mix well. The yeast should completely dissolve in the water. Now add 1/2 tsp sugar to it and give it a quick mix again and set aside for 10-12mins
Check the yeast after 10 mins, it should have slightly become frothy and risen. This means it is now ready to use
In another large bowl, take the plain flour, add 1 tbsp oil, pinch of salt and the risen yeast.
Using warm water slowly knead the dough. The dough should be soft, similar to our regular chapati dough.
After kneading smooth, keep the dough in a warm corner of the kitchen. Cover with a wet cloth to avoid it from drying out.
Use this one hour to make the stuffing.. (Although the stuffing needs only 20 mins, but it needs to cool down in the remaining time)
In a kadhai or pan, heat 2 tbsp oil, when hot add onions and saute for 2 mins
Now add all remaining ingredients listed under "for stuffing" and mix well
Cover and allow the stuffing to cook for 15 mins on low heat. Stir in-between.
After 15 mins the stuffing should be like a thick masala.. Taste for seasoning and adjust salt, sugar accordingly. If you like spicy, add more pepper powder.
Set aside the stuffing to cool
After one hour check back the dough, its should have risen in size and become double of what it was
Apply oil to your hands and punch back the dough. Make 6-8 small rounds of the dough
Using your fingers create a well like structure and fill the center of each of the dough rounds with 1 tbsp filling. Make sure the filling is complete cooled down before using
Close the well edges from top to create a stuffed ball and slightly press to make flat
Pre heat the oven at 250 degrees for 20 mins
Place all the stuffed dough segments on a baking tray (apply oil on the tray to avoid the dough to stick)
Brush the top f the buns with milk (you can also use an egg wash)
Bake the buns for 25 mins (check after 20 mins once)
Remove and serve as a snack or as breakfast!