How To Make Paneer At Home
No more need to worry about buying costly paneer from the market. Make fresh and soft paneer at your home with this easy recipe !!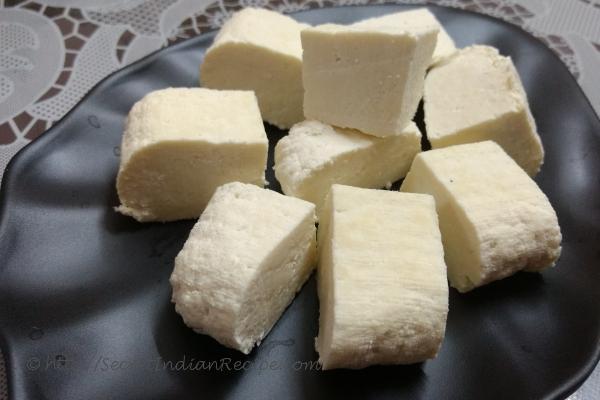 Ingredients:
Toned Milk - 1.5 Litre
Citric Acid Crystals - 1/2 Tsp
Directions:
Take milk in a pan and boil it. Stir it 2-3 times in between, so that the fat does not separate.
Once the milk comes to a boil, switch off the flame.
Add the citric acid crystals to the boiling milk. Switch on the flame and let it cook for another few minutes until the water separates. The process will not take more than 6-7 minutes. Keep the gas on low flame.
Once the paneer portion has separated from the water, switch off the flame and let it rest for 1-2 minutes.
Take a big vessel and keep the strainer over it, and cover it with a muslin cloth. Pour the milk mixture in the strainer. This will separate paneer from the water.
Now wash paneer under running tap water to get rid of the sourness from citric acid. Do not mash,break or scramble it as we do not want broken pieces of the paneer.
Once it cools down from the top, then cover the upper surface in a way potli is formed. Wash it from all sides to cool down the paneer. Let the paneer potli rest on strainer for a minute.
Take a plate and turn it upside down. Keep the potli on the plate. Open it, and bring the opposite edges of potli together so that half portion of paneer is brought on top of the remaining half. Hold it tight, push back paneer together and start rolling it so that a big piece is formed.
Again push back the paneer pieces and fold it from other 2 remaining sides. Press down the paneer on the plate with the help of a chakla (rolling board). Leave it for 30-40 minutes.
After that, you will get a proper block of paneer. But DO NOT add paneer to any gravy at this time, because it will break and melt down in it, spoiling both paneer and gravy. So for best results, transfer paneer to a plate and refrigerate it for an hour.
After an hour, paneer is ready to be cut and used in your favourite dishes.
Footnotes:
Instead of toned milk, full cream milk can also be used to make more creamy and cheesy paneer.
I used toned milk, so if you opt for full cream milk; there will be a difference in amount of citric acid used. Just make sure not to use large quantities of citric acid crystals at once. You can add little amount at a time until fat separates from the water. Give it a little time to separate.
Adding too much of citric acid will make paneer sour and hard. So keep a check on quantities added. The above recipe makes soft and delicious paneer.