Hyderabadi Stuffed Mirchi Salan
Indulge in this spicy treat from Hyderabad... stuffed green chillies in a tangy salan. !!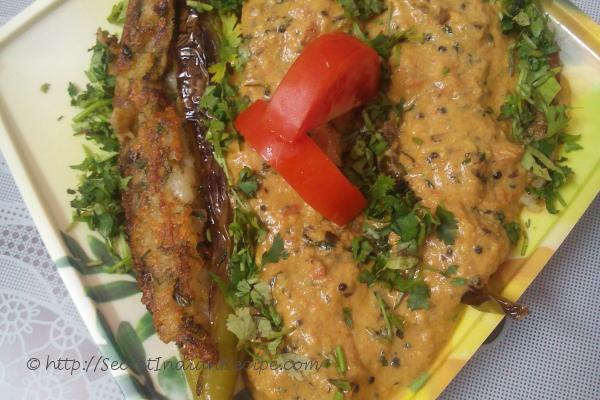 Ingredients:
1. Peanuts – 1Tbspn
2. Coconut – 1Tbspn
3. Sesame Seeds – 1Tbspn
4. Mustard seeds – 1/3 teaspn
5. Cumin Seeds – ½ tsp
6. Fenugreek seeds – 5-6 seeds
7. Dry red chilli – 2
8. Turmeric powder – ¼ tsp
9. Coriander powder – 1 tsp
10. Red chilli powder – ¼ tsp
11. Salt – to taste
12. Onion (roughly chopped)– 1
13. Tomato (cut into thick slices) - 1
14. Green chilli (chopped) - 1
15. Curry leaves – 6-7
16. Ginger garlic paste – 1tsp
17. Coriander leaves - chopped
18. Yoghurt – 1 ½ Tbsp
19. Oil – 2tbsp
20. Water – 2 ½ cups (or as required)
21. Big Green Chilli (medium size) – 3
22. Potatoes – Boiled and mashed – 2
23. Dry mango powder – 1/4 tsp
Directions:
For Salan: Slightly dry roast peanuts, coconut and sesame seeds. Saute onion with little oil until golden brown. Cool all the ingredients and grind them into a smooth paste.
Heat oil in a pan. Add mustard seeds, once it starts to crackle add fenugreek seeds, cumin seeds and red chiili. Add curry leaves and ginger garlic paste.
Once the raw smell of ginger garlic goes away, add the onion paste that we have made. Mix everything and add all the spices, salt and green chilli. Sauté the mixture.
After a minute add water to the mixture, so as to convert it into a thin curry. Mix it and cover with a lid. Cook it on a low flame for half an hour, stirring it after every 10 minutes.
Once the gravy becomes thick, add tomatoes and cover for 2 minutes. Then add yoghut and cover for another 1 minute. Add coriander leaves. Salan is ready.
For Stuffed Green Chilies: Add salt, bit of red chilli powder, dry mango powder and coriander leaves to the mashed potatoes. Stuffing is ready.
Slit green chillies and deseed them. Stuff it with potato mixture.
Heat 2 tbsp oil in a pan and fry chillies from all sides. Once chillies turn brown and potato filling is crisp, turn off the flame.
To Serve: Put the hot chillies on a small plate or bowl and pour salan on them, so that each chilli is well covered by salan. Serve hot.